Ecumen Receives National Award for Its Workplace Online Learning Program
Ecumen has received a "Learning Excellence Award" from Total Training Network (TTN), a leading learning management system and online training provider.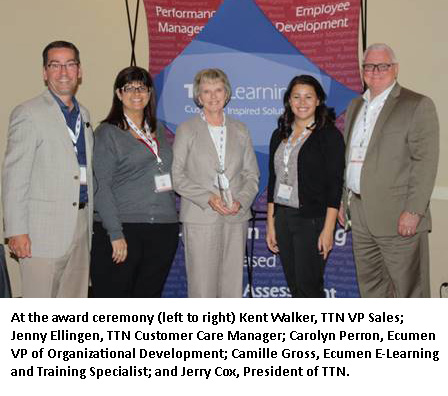 Ecumen was cited for its Ecumen University, which allows Ecumen employees to go online for training in a wide variety of subject areas, such as customer service, medication administration, dementia care and communication. Ecumen University is also used by site leaders to post instructional videos and content specific to individual communities.
The TTN Learning Excellence Award acknowledges companies from around the U.S. for creating exceptional curriculum content delivered through online learning programs. TTN named eight award winners from a broad range of markets and industries that have exceptional programs which integrate TTN's cloud-based workplace learning products into employee training programs. Two other Minnesota companies, HealthPartners and Holiday Companies, were among the winners.
The Ecumen University program was developed over the past two years by Carolyn Perron, Ecumen Vice President of Organizational Development, and Camille Gross, Ecumen E-Learning and Training Specialist.
"We're proud to be recognized for Ecumen University," Perron said. "We are a company with 38 sites across the Midwest, so having a quality e-learning program is critical to ensuring that all our employees have access to training at a time that is convenient for them. Our learning courses are customized to senior services and based on the needs of our employees. "
Perron said subject matter experts from throughout Ecumen collaborate in developing the content and approving the course design. Future plans for learning courses include supervisory skill training and several Awakenings courses for Ecumen memory care communities.
"We are pleased to present these awards to such a distinguished group of exceptional organizations," said TTN President Jerry Cox. "These businesses have made learning an important part of their corporate culture. By establishing cloud-based learning as an integral component of their training programs these leading companies are setting a precedent for other corporations."
About Total Training Network
Since 1995, Total Training Network has helped clients improve, grow and achieve company and employee goals using e-learning, in-house training and mobile-based training courses. TTN's Learning Management Systems (LMS) use full-motion video streaming with interactive learning for maximum results. Their course offerings cover a vast array of subjects including sales, management, team building, human resources, marketing, computers, and safety. Their corporate headquarters is in Minneapolis. For more information, visit www.ttnlearning.com.