Ecumen Promotes Matt McNeill to Director of Business Development
Matt McNeill has been promoted to director of business development at Ecumen.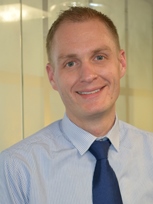 McNeill joined Ecumen a year ago as regional sales and marketing manager. Prior to that, he was corporate director of marketing for Walker Methodist and has worked at StoneArch Creative in Minneapolis, Aurora Health Care in Wisconsin and University of Chicago Hospitals. He has over 10 years of strategy development, marketing planning and sales team leadership, as well as advertising agency and business development background.
"At a time when Ecumen is looking to expand its new developments, we are fortunate to have someone of Matt's diverse experience and capabilities already on staff," said Julie Murray, Ecumen vice president of sales, marketing and business development. "This past year, Matt has done an outstanding job working with Ecumen communities to develop and improve our sales and marketing programs and implement successful marketing plans while also working on some of our new developments."
McNeill has a Bachelor of Arts degree in public relations and a minor in marketing from Marquette University.