Ecumen Pathstone Living Adds State-of-the-Art Treadmill To Its Rehabilitation Equipment
Ecumen Pathstone Living in Mankato, Minn., has added a LiteGait® Treadmill to its transitional care center allowing older adults to more safely begin rehabilitation walking programs after injuries, surgeries and hospital stays.
The treadmill's suspension technology reduces the risk of falling, allowing older adults in rehabilitation programs to resume walking with more confidence.
"Thanks to the help from several generous donors, we can now offer this state-of-the art equipment as part of our rehabilitation program," said Beth Colway, Ecumen Pathstone Living's development coordinator. "This new treadmill opens up additional options for our physical therapists to help older adults recover from injuries or surgeries and return to living in their homes."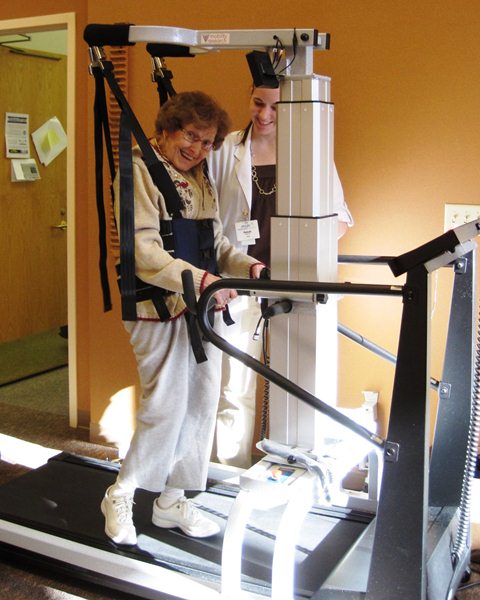 Beth said the new treadmill cost just over $20,000 — fully paid for by donations.
With some older adults, regaining the ability to walk after hip fractures or other lower body injuries can be extremely difficult. Some never regain the ability to walk because they can't endure the necessary physical therapy that incorporates walking and weight bearing activities. By utilizing LiteGait®, Pathstone therapists can offer programs that safely increase the possibility of walking again.
LiteGait® explains the capabilities of its treadmill this way: "Our patented system maintains the patient in a secure, upright position. By reducing the risk of falling, LiteGait provides a safer therapy environment. More than just and extra pair of hands, LiteGait's most important effect is the confidence it inspires in patients. In a process that is often difficult and painful for both patient and therapist, LiteGait® encourages a sense of accomplishment, progress, and ultimately, success."
LiteGait® can assist with numerous types of therapy, including postural support for sitting, standing, walking and running, pain-free movement that encourages walking with normal gait mechanics, partial weight bearing, upper body mobility, balance and coordination, neurological gait training, geriatric conditioning, fall prevention and weight control programs.
In the photo, Grace Carlson, a resident of Ecumen Pathstone Living Short Stay Care Center, is assisted on the new LiteGait® treadmill by Becca Gish, a physical therapist.
—
Ecumen Pathstone Living, which has been serving the Mankato area for more than 75 years, provides services including skilled nursing care, short-term rehabilitation, memory care, and assisted living apartments. Pathstone also offers home care, adult day services, and catering services. More than 500 people each day benefit directly from Pathstone services. Ecumen Pathstone Living is owned by Ecumen, the most innovative leader in senior services. In 2004, Ecumen Pathstone Living opened its transitional care center providing short-term therapy and rehabilitation, which now serves approximately 350 adults each year.