Ecumen Parmly LifePointes Roars Back to the Twenties
The Ecumen Parmly LifePointes annual candlelight dinner Thursday night was the bee's knees. The Chisago City joint was jumpin' to jazz as gangsters and flappers mingled at the annual event that brings resident, family and staff together.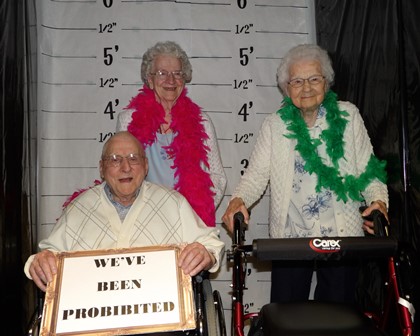 This year's theme was "Speakeasy Soiree." The annual dinner began as a Valentine's Day celebration and has grown to become one of the most anticipated Parmly social events. It started as an elegant dinner and evolved into a full production of entertainment, decorations and costumes.
About 100 residents, 60 family members and 25 volunteers attended. The photo booth offering gangster mug shots was a huge hit, along with entertainment by Carl Kronowski and the Forest Lake High School Jazz Band.
At Isabelle's House, the memory care community, family and residents enjoyed a "Spring Fling" theme evening with food and conversation and harp music.