Ecumen Parmly LifePointes Honors Its Superstar Volunteers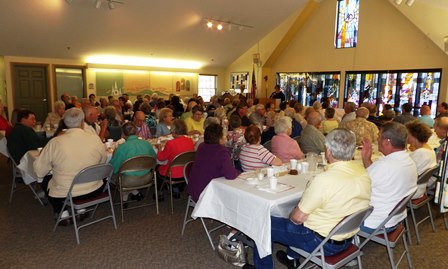 Ecumen Parmly LifePointes held its annual volunteer luncheon Monday and handed out awards to its volunteer "superstars."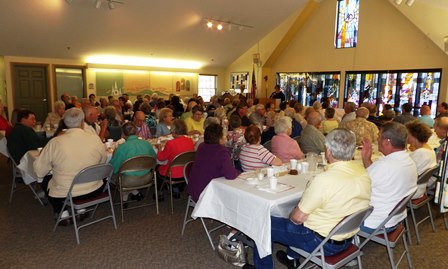 By Mara Krinke, Ecumen Parmly LifePointes Community Outreach Coordinator
Ecumen Parmly LifePointes held its annual volunteer luncheon Monday and handed out awards to its volunteer "superstars."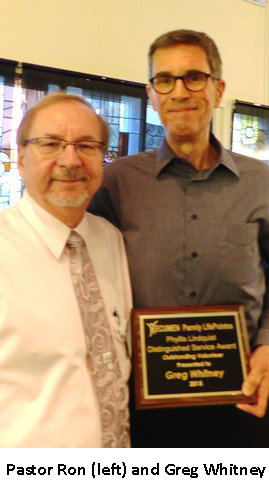 Executive Director Julie Spiers told the approximately 90 guests gathered for the luncheon that Ecumen Parmly LifePointes has 322 volunteers who donated 9,618 hours of service last year. Volunteers helped by driving, packing food, answering phones, doing office work, wheelchair pushing, piano playing, taking residents for walks, reading to residents, praying with residents, help with events, and helping with crafts. She said 150 volunteers made it possible to serve 7,300 Meals on Wheels annually.
The top award is the Phyllis Lindquist Volunteer of the Year Award, named for an outstanding volunteer and later resident who gave her time for 55 years and was the first Volunteer of the Year. This year the award went to Greg Whitney, a spiritual care volunteer. Greg has been helping on the Parmly campus since 2010. Every Tuesday and Wednesday he visits with residents and staff and also helps Pastor Ron Gerl by leading Bible studies and services. Greg said he was "humbled and honored" for being chosen for this award and thanks God every day for the opportunity to help.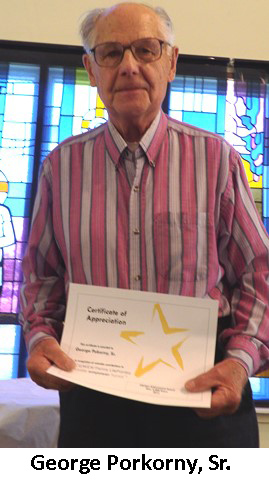 A Lifetime Achievement Award for giving 4,000 hours or more in a lifetime went to George Pokorny, Sr., who told the group he loves volunteering at Parmly. "It gives me purpose," he said.
Gold Award winners for 500 or more hours of service in a year were Greg Whitney, Elaine Schumacher, Jay Frischmon, and Karen Gustafson.
Silver Award winners for 250-499 hours were Chuck Roberts, Joan Peterson, Gail Gaustad, Eileen Hoffman, Rich Helgerson, Faith Boston, Bob Butte, and Richard Carlson.
Bronze Award winners for 100 to 249 hours were John Peterson, Nickie Nelson, Keith Green, Lil Johnson, Jane Iverson, Kim Donahue, and Heidi Gieske.