The Ecumen Parmly LifePointes Choir: Oh, Say Can You Hear Them So Gallantly Singing
The Ecumen Parmly LifePointes Resident Choir took to the football field last Friday night and won the crowd with a memorable a capella version of the National Anthem.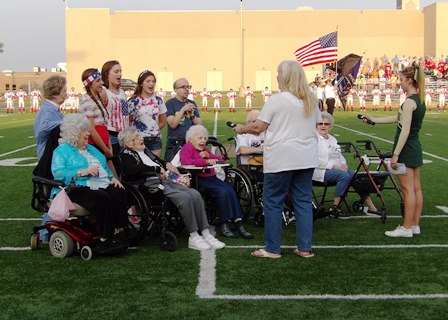 By Mara Krinke, Ecumen Parmly LifePointes Community Outreach Coordinator
It was a hot, sticky night last Friday — not exactly football weather — as the Chisago Lakes High School Wildcats were preparing to take the field to face the North Branch Vikings. But right now, all eyes were on the Ecumen Parmly LifePointes Resident Choir at mid-field and all ears were tuned to their harmonious a capella sound.
The choir was singing the National Anthem, and the crowd erupted in cheers when they finished. It was a special moment.
The seven-member choir, invited to sing at the game by School Superintendent Joe Thimm, was joined by three high school choir students, and the group was led by Parmly Choir Director Linda Iwaszko. After a practice run indoors, the choir went on the field. The color guard marched by, and when they stopped at the 50-yard line, the choir sang the National Anthem. Family members and Parmly staff stood on the field and supported the singers with loud cheers and clapping.
When the game started, the resident group went inside for pie and cold water hosted by School Principal Dave Ertl. "I love having residents from Parmly come to the school," he said. "It's great for the kids to be around our seniors!"
Choir members, who were in great spirits despite the heat, enjoyed the apple pie and headed back home with smiles and fond memories.
And all ended well. The Chisago Lakes Wildcats won 28-7.