Ecumen Detroit Lakes Nurse Bobbi Jo Koons, RN, got a big surprise recently when she was awarded the Every Day Hero Award of 2018 by the United Way of Becker County.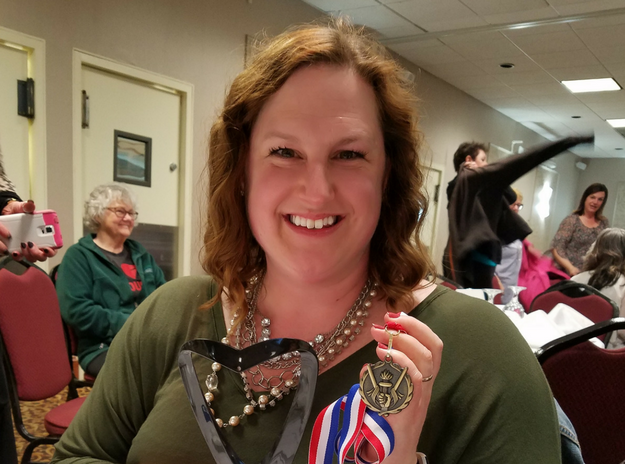 The award goes to "the unsung heroes, people who are looked up to, who inspire and who quietly go about making a difference in the lives of others."
"This is Bobbi in a nutshell!" said Katie Lundmark, Executive Director at Ecumen Detroit Lakes. "She is a person we all strive to be every day, and how lucky is Becker County to have her living and working in Detroit Lakes. She will forever be leaving long-lasting, positive impacts on so many people she has, and will, encounter."
Bobbi, an 18-year employee at Ecumen Detroit Lakes, is a nurse assessment coordinator and lead nurse educator. She also is the dive coach at Detroit Lakes High School. In support of the award, her colleagues and students wrote letters effusive with praise and admiration. Here are some excerpts:
"Bobbi is compassionate and has a great love for teaching others, which is apparent by her bubbly, positive attitude." – Bridget Okeson, Director of Nursing
"Her positivity is infectious, and everywhere she goes, she leaves a smile!" Jena Ollila, RN
"Along with her nursing duties, she teaches NAR's and TMA's not only the skill they need to succeed but also how to always have a positive attitude in life no matter what life brings them," – Peter Gallatin, Chaplain
"Everyone needs a Bobbi in their life," – Alexis Yliniemi, student
Congratulations, Bobbi. Ecumen honors you. You're our Every Day Hero too!