Ecumen North Branch Receives Dignity Quilts
Recently, Piecemakers Quilt Guild donated handmade "dignity quilts" to Ecumen North Branch.
On January 18, the Piecemakers Quilt Guild donated "dignity quilts" to Ecumen North Branch. These quilts, funded by a Thrivent Action Team grant and handmade by the members, are made to cover the bodies of residents while leaving the senior community after they have passed.
In an article for The Post Review, Ronda Taber, Ecumen Nursing Life Enrichment Supervisor, said, "When (the residents) pass, we cover them with the quilt, and that quilt stays on them all the way out to the hearse."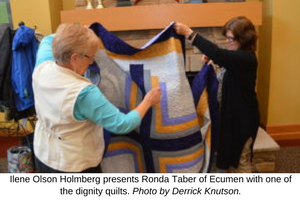 "We sing 'Amazing Grace' along the way. That happens to everyone who leaves here, if that's what the resident and their family wants. Then we take the quilt back and we put it on their bed until the family comes in and takes the things from their room. We want them to be honored. They're family. They become family here. When they come in the door here, we want them to leave with the same dignity that they walked in the door with," Taber added.
Read the full article here.