Ecumen has been named one of Minnesota's Best Places to Work for the 10th time by the Minneapolis/Saint Paul Business Journal.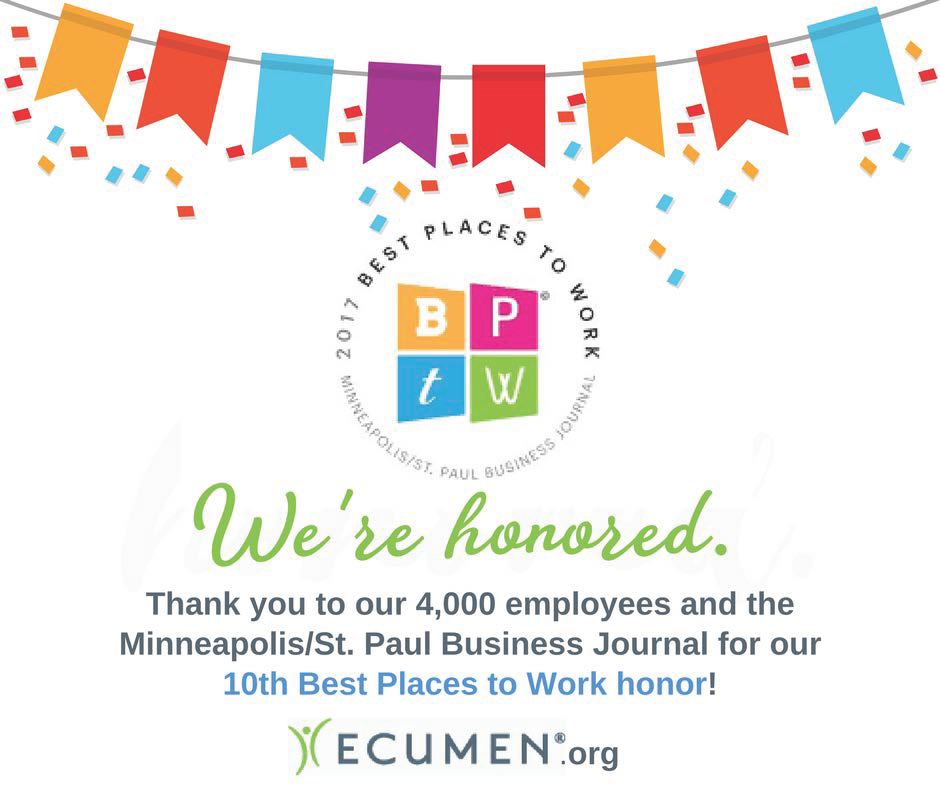 In the announcement made today, Ecumen was honored in the large-company category along with Minnesota companies such as U.S. Bank, HealthPartners and Ameriprise Financial. The award is for fostering an exceptional work environment, based on rankings from independent surveys of employees in a variety of categories such as teamwork, embracing innovation, people practices and personal growth and development.
"We're are delighted to be named a Best Workplace for the 10th time," said Robin Dunbar Balck, Ecumen's Senior Vice President of Administration and Chief Strategy Officer. "This is a strong vote of confidence from our employees on the quality of Ecumen's workplace. We are a Best Workplace mainly because we have such engaged and committed employees."
Ecumen, established more than 150 years ago, is one of the nation's top 25 largest non-profit providers of senior housing and aging services, employing almost 4,000 people and serving nearly 20,000 customers annually. Based in Shoreview, Minn., Ecumen operates 36 communities in 8 states — Minnesota, North Dakota, Wisconsin, Michigan, Idaho, Ohio, Indiana and Tennessee. Ecumen provides a variety of senior housing options and services including independent living, assisted living, short-term rehabilitation and long-term care communities as well as at-home and community-based services including home care and hospice.
Balck said employee empowerment is fundamental to the Ecumen culture. "Empowering our employees in turn empowers the people we serve," she said. "It's a dynamic combination."
Balck said Ecumen is working to promote careers in senior care with enhancements such as improved compensation, benefits, flexible work schedules, self-directed career development, and a culture that is highly responsive to employee feedback.
"We want to get out the word that senior care offers highly rewarding careers," Balck said. "We are growing and hiring. We know Ecumen's future depends on continuing to attract the very best employees."
The number of Minnesotans turning 65 in this decade will be greater than the past four decades combined, Balck said. "To serve this rapidly growing senior population with the highest quality care, our goal is to be the employer of choice with the employees of choice in every community we serve."