Ecumen Meadows in Worthington Gets Grant To Fund Strength-Training Program for Seniors
Ecumen Meadows in Worthington, Minn., has received a $4,500 grant from the Worthington Regional Health Care Foundation to fund exercise equipment and personal training for residents and area seniors aimed at preventing falls and increasing independence.
Nancy Garvin, Ecumen Meadows housing manager, said residents, their families and staff already have raised about $3,000 to support a strength-training exercise program. The addition of the grant money will allow purchase of a new step exercise machine specifically for seniors, fund a year-long contract with a personal trainer and add additional exercise equipment such as hand weights, stretch bands and exercise balls.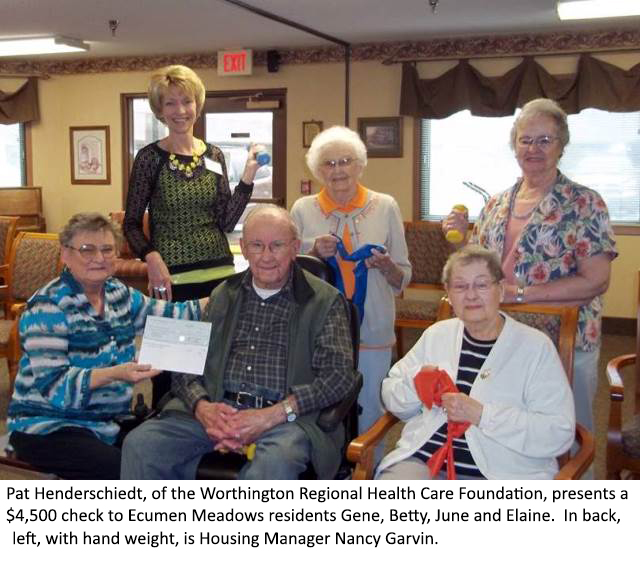 "There is such a high demand for a program like this from our residents and other seniors in the area," Garvin said. "We're very grateful for the foundation's recognition of this need and their generous financial support. Strength training can prevent falls and increase mobility. We have very active seniors here, and this will allow us to have exercise sessions four times a week."
She said Ecumen Meadows serves 120 residents, plus the program also will be open to the entire Worthington community. "Maintaining their strength will allow seniors in the community to remain in their homes as long as possible," Garvin said.
Pat Henderschiedt, representing the Worthington Regional Health Care Foundation, presented the $4,500 check to a group of Ecumen Meadows regular exercise participants on May 12.
Planning is now underway to start the four-times-per-week Senior Wellness Program this summer. For more information, call Cheryl Dinsmore, life enrichment manager at Ecumen Meadows, at 507-343-7157
.