Ecumen Meadows Resident Honors Veterans with 'Quilts of Valor'
Ruby Toussaint, a resident of Ecumen Meadows in Worthington, lovingly makes "Quilts of Valor" to honor veterans.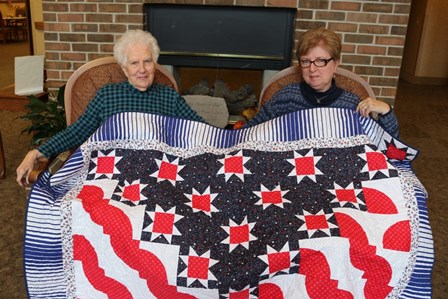 Ruby Toussaint (left) and daughter Linda
By Caryn Harrington, Ecumen Meadows of Worthington
WORTHINGTON, Minn. — Back in August, Ecumen Meadows resident Ruby Toussaint and her daughters Marsha, Linda and Barb worked on quilts over the weekend to give to their uncles who are military veterans.
Marsha first saw information on TV about the Quilts of Valor. She then started making quilts with ladies in church at Albert Lea, Minn. Now it has turned into a family affair.
The Toussaint's have already made five quilts which will be presented to their uncles this Thanksgiving. Two of the uncles have since past away, and their families will receive them in their memory.
Quilts of Valor Foundation (QOVF) started with Catherine Roberts in her sewing room in Seaford, Del. Her son, on a year-long deployment to Iraq, provided the initial inspiration, and her desire to see that returning warriors were welcomed home with the love and gratitude they deserved, provided the rest.
Quilts of Valor are stitched with love, prayers and healing thoughts. Troops who have been touched by war are awarded this tangible token of appreciation that unequivocally says, "Thank you for your service, sacrifice and valor."
According to the QOVF website, more than 100,000 quilts have been awarded to service members/veterans. It is a wonderful form of national service and anyone can do it!