Ecumen Meadows in Worthington will be creating a therapeutic music program for its memory care residents thanks to a $3,427 grant from the Worthington Regional Health Care Foundation (WRHCF).
Ecumen Meadows will be partnering with Music & Memory, a national non-profit that has developed comprehensive programming to bring personalized therapeutic music to the elderly.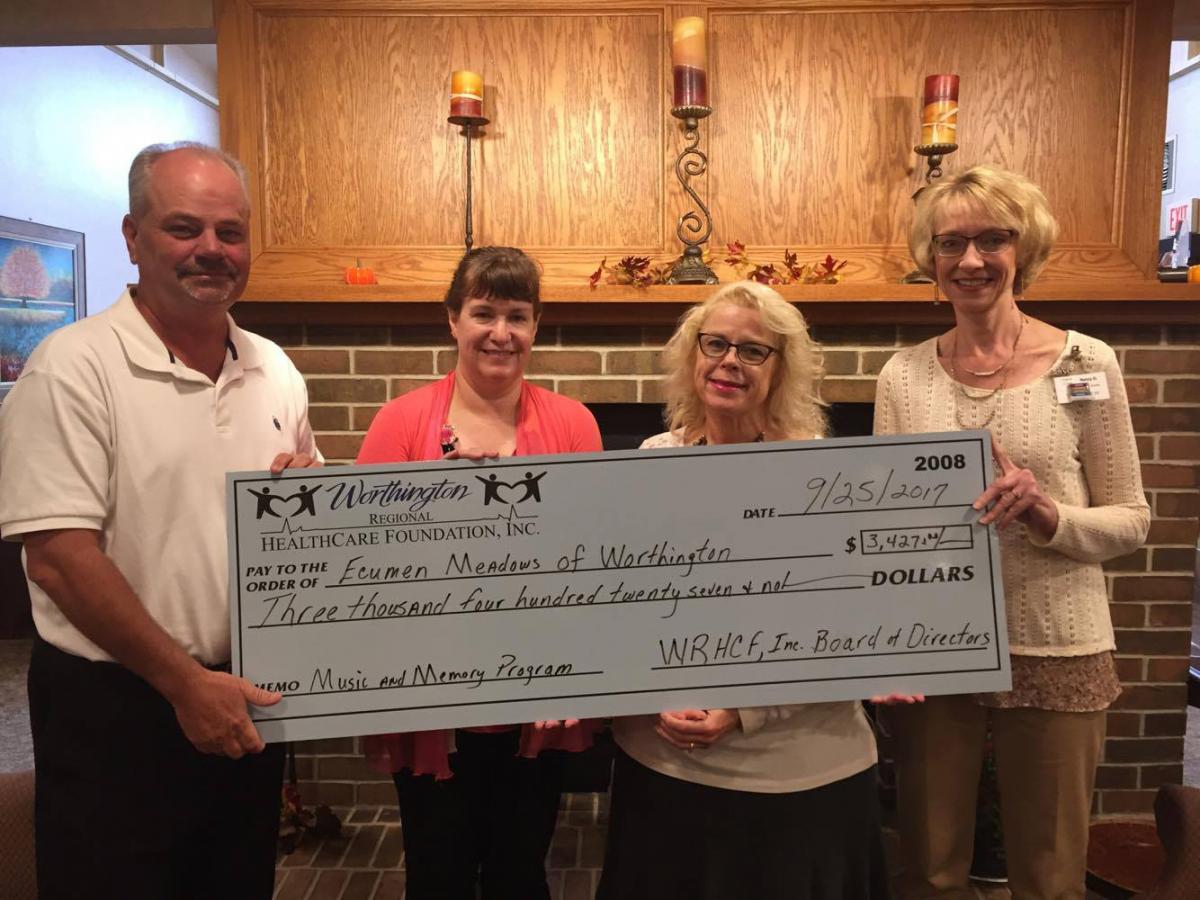 Jeff Rotert, WRHCF president (at left), presents a ceremonial check to Cindy Gravenhof, Memory Care Coordinator, Cheryl Dinsmore, Life Enrichment Manager, Nancy Garvin, Executive Director.
Music therapy has proven to be one of the most effective approaches to improving the quality of life of people with dementia, who often are able to reconnect to the world around them during and after listening to their favorite music. Researchers have documented remarkable cases of people in late-stage dementia who have come "back to life" after exposure to music that taps deep memories. (See an example in this video.)
"We are thrilled to receive this grant," said Executive Director Nancy Garvin. "We've seen the positive results at other Ecumen sites firsthand, and now we will be able to bring this program to our memory care residents." Ecumen Parmly LifePointes in Chisago City and Ecumen Lakeview Commons in Maplewood have previously implemented the program.
Ordering the equipment and training staff to administer the program will begin right away, Garvin said, and the program will be launched before the end of the year. The WRHCF grant will be supplemented with a $1,200 grant from the son of a former Ecumen Meadows memory care resident after seeing the impact music had on his family member.
Garvin said the Music & Memory program also helps with reducing the need for medication and reducing agitation while increasing social engagement, attention, cooperation and general quality of life. "It's amazing what music can do to bring joy back into the lives of people with dementia," she said. "We're really looking forward to bringing this excellent program to our memory care residents."