Ecumen Lakeview Commons Interns Get Some Life-Changing Experience
"You think you're changing [the residents'] lives, but in reality, they're changing yours."
The following article is reprinted from the Hill-Murray website and is also available at this link. Hill-Murray is a Catholic Benedictine prep school for grades 6-12, located near Ecumen Lakeview Commons in Maplewood, MN.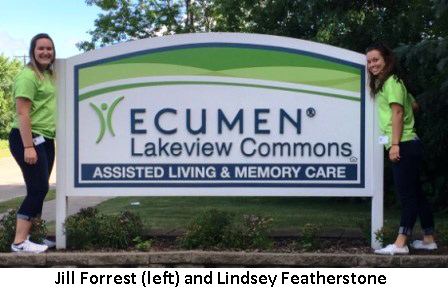 When Jill Forrest (class of 2016) learned about a summer internship opportunity at Lakeview Commons, a senior living community, she was immediately interested. As a Hill-Murray graduate with career aspirations in the medical field, it was a perfect fit. "My Christian Service Learning teacher, Mr. Cooper, informed me about it. He said they'd be choosing one college student and one high school student, particularly students wanting to go into the medical field. For me, being a nursing major, whenever I have spare time I like to shadow the nurses and get a feel for their everyday schedule and duties."
Lindsey Featherstone, a senior at Hill-Murray, earned the other internship. The girls often work together, although their duties differ on a daily basis. "Lindsey and I help out with whatever is needed, whether it's decorating for an event or assisting with a fitness class," Forrest explained.
"Some days I'll be out on the floor helping the residents and nurses, while other days I might be helping stage apartments for tours or visiting the residents in memory care. It really depends on what they need," added Featherstone.
The girls love spending time with the seniors. "I love seeing how happy the residents get. It really doesn't take a lot, but giving my time to them and seeing how much they appreciate someone sitting and talking with them is really rewarding," said Featherstone.
Forrest and Featherstone want to encourage other students to serve or volunteer. "Don't be afraid to step out of your comfort zone. Some of the connections that you make now could open so many doors for your future," advised Forrest.
Featherstone agreed. "I've only been at Lakeview for a short time, but it has already changed my life. Being around these seniors, hearing about their lives, and just seeing how happy they are to visit and share stories brings a smile to my face. I think everyone should experience this feeling at some point. You never know how much of a difference you're really making. You think you're changing their lives, but in reality, they're changing yours."