Ecumen Lakeshore Nurse Hanna Norman, RN, was recently featured in a cover story in Career Impact magazine, published for the community, alumni and friends of Wisconsin Indianhead Technical College. The article is reprinted below and you can see the original at this link.
By Jessica Hehir
Some say it's a calling; others might call it a passion. For Hanna Norman, a career in healthcare is simply what she wanted to do. Her career began while most of her friends were just learning how to drive.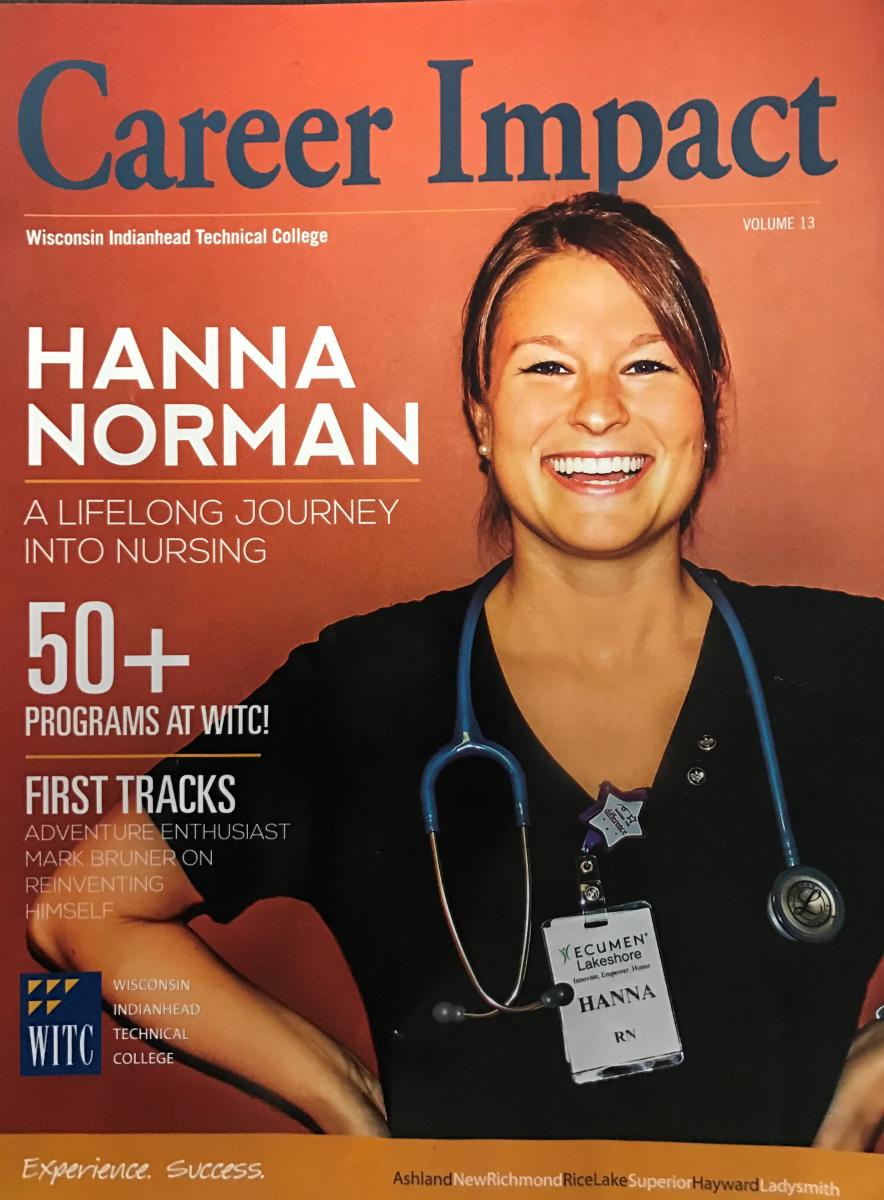 Norman became a Certified Nursing Assistant when she was 16 years old. After high school, Norman attended the University of Minnesota and earned a Bachelor of Science in psychology, but she missed the hands-on interaction with her patients as a CNA. After working full time in the psychology field, Norman decided to return to the classroom. In 2015, she graduated from WITC-Superior with an associate degree in nursing.
"I can't say enough good things about WITC. The program was hard and intensive, but it prepared me for real-world healthcare," said Norman. "We received a lot of face-to-face time with patients, and our instructors pushed us to dig into patient history."
The change of career focus paid off for Norman. When it came to finding a job after her WITC graduation, Norman found plenty of options. She stepped right into a rewarding position at Ecumen Lakeshore in Duluth, Minn.
"Nothing compared to Ecumen Lakeshore," said Norman. "I chatted with the nurse manager, and they have a great support system. It is a fabulous place for me to start out as a new nurse."
Norman, in turn, was a great fit for Ecumen Lakeshore.
"Not only is Hanna a caring and compassionate nurse, but her clinical skills are also outstanding," said Veronica Olsen, director of nursing. "Hanna is an exceptional team player; she's always willing to help. Our patients adore her as well as our staff. We feel very fortunate that Hanna is on our team at Ecumen Lakeshore."
WITC provided a wide variety of clinical settings ranging from cardiac and burn units to memory and hospice care and correctional healthcare. That training helped Norman advance in her current position as an on-call nurse.
Despite multiple degrees and certifications, Norman's education didn't end when the job started. Ecumen Lakeshore is a great training ground for professional development with both classes and hands-on-training.
"I just trained as a bridge nurse; I now handle admissions and discharges," said Norman. "Going home or having home care is a big group effort and bridge nurses oversee the details. I see the whole spectrum of care."
Ecumen Lakeshore Human Resources Director Kristin Spencer believes their facility is fortunate to employ several nurses who have graduated from WITC.
"You can instantly see the comfort, care and compassion that they deliver to our patients," said Spencer. "They put their heart, mind and soul into all that they do. We are so proud to hire WITC nurses."
Norman has pride in her work and accomplishments too.
"Two years and so much work seemed like a huge mountain to climb. Now that it is done, I just feel so proud. I am really happy where I am."