The Ecumen IT Nurses: Comforting Those Suffering From Technology
They are affectionately known around Ecumen as the "IT Nurses" because they work in the Information Technology (IT) Department, taking care of other nurses throughout Ecumen who must stay up-to-date on ever-changing healthcare software systems.
By nature and training, Pat Wilcox and Diane Erickson are nurses first, which makes them unusual members of the IT Department. For them, the techy part of their job is just a means to advancing the quality of Ecumen's nursing care. "We like this techy stuff," Diane says. "We think it's fun. But we'll always miss bedside care."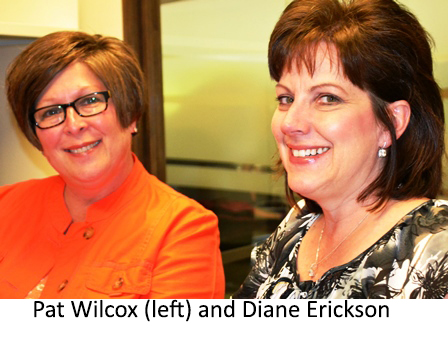 They are trainers, troubleshooters and counselors with thick skin and good senses of humor — traits that come in handy most every day. Almost always when their phones ring, there is a problem on the line. Usually, the technology is not working like it should or the user is not coping well.
Both Diane and Pat have been directors of nursing and held other nursing jobs. They know the clinical processes well. And, like most nurses, they have caregiver personalities and approach technology problems much like they would medical problems — with patience, understanding and reassurance. But now, instead of working at the patient's bedside, they hold the hands of other nurses, who are trying to come to grips with new systems that eliminate paper and organize information — but not without sometimes creating frustration.
They fully understand that compassionate caregiving and dispassionate technology are strange bedfellows, but Pat and Diane try to bridge the gap with calming good humor and can-do encouragement, along with rational arguments for why the new technology makes life better for both nurses and residents.
Most nurses adjust quickly — once they find enough time away from their patients to learn the new systems. Then they begin to actively contribute to making improvements with suggestions for enhancements.
Diane and Pat remember the days when most documentation was done on paper, endlessly duplicated and filed away in a drawer or three-ring binder. These days, with mounting regulation and stricter charting requirements, records are held to more exacting standards and must be accurate, available on a moment's notice and easily analyzable. Paper just doesn't cut it anymore, but still manages to hang around.
Training nurses to stay current on the electronic systems is a continuous process. Most of the training is now done by webinar since Ecumen's more than 500 nurses work at sites throughout the Midwest. In addition to being efficient, webinars also take some of the emotion out of training. "You can't see the eye-rolling during webinars," Diane quips.
And when they are not holding training sessions, they are taking calls to troubleshoot problems. A tense nurse might call up with a problem like: "The doctor will be here to round in five minutes, and I can't find the report she needs." Or, "I can't get the data in… Or, "I can't get the data out." Or, "This is broken."
Pat says because nurses are so constantly busy, when they are confronted with new systems, their first question usually is: "Now just how is this going to save me time?"
Pat and Diane agree that time-savings, while a highly desirable goal, is not necessarily the key benefit. What is more important is being thoroughly organized and controlling the information environment — a necessity in delivering high quality care.
Technology can reduce medication errors, issue alerts, track and trend patient data and allow for easy analysis. The systems, like the "Point Click Care" software currently being introduced, can track tiny changes in vital signs, and they can ensure a higher quality of medication management than a chart on a clipboard.
"Good technology makes you more knowledgeable," Diane says. "There is power in having data at your fingertips."
Plus, she points out, technology makes it possible for nurses to get credit for all that they do. Every action a nurse takes with a resident is easily documented, which is also important for accurate billing.
Yet technology is only as good as the user. "You still have to be a nurse," Pat says. You still have to have clinical judgment. The clinical process drives what we do. Knowing the process is key."
And that is why Diane and Pat's work is so critical, according to Maria Reyes, an Ecumen quality improvement nurse, who praises their approach. "They have taken us through the transitions of so many systems," Maria says. "They know what nurses need, and they do the transitions through the eyes of nurses. I don't know how we could do this without them."
The new systems allow more mobility with handheld devices that enable nurses to do their charting and assessments at the patient's bedside. And many systems now talk to one another other, allowing easy electronic transfer of patient information to and from clinics, hospitals and pharmacies — eliminating the scramble to find paperwork.
Diane and Pat both have more than 30 years of experience, working in hospitals and long-term care centers — both working their way up to director of nursing jobs. Before migrating into their IT Nurse roles, Pat worked at Ecumen Bethany Community, and Diane at Ecumen-managed Pelican Valley Health Center. Pat left Ecumen to become a trainer for a software company. Then 13 years ago, when Ecumen started its own training program, she became the first IT Nurse. Diane admired Pat's work and jumped at the chance to become an IT Nurse two years ago.
They meshed as a team and now think of themselves as "bookends" who have different personalities and see things from different perspectives but can finish each other's sentences.
In addition to training nurses on new systems, they also have a mandate to make the systems better by listening to the users, monitoring their experience and making improvements. "It's not common to have nurses working in our roles," Pat says. "Because we understand the clinical process, we can make the technology support it better."
Both Pat and Diane agree that the core value driving all their work is that "the resident comes first." Fundamentally, their job is to help nurses help residents.
Pat sums it up this way: "Better workflow leads to happy staff, which means happy residents."