Ecumen Hospice Team Honors a Client's Last Wish in a Heartfelt Singing Goodbye
Hazel Erickson of Litchfield was an independent and strong-will woman who loved her family, her church and her community. She also really loved to dance and was always dressed to the nines.
Hazel never let on that she was dying and in intense pain. She kept going to church as usual, and the folks there had no idea she was in hospice — or even sick. That's how she wanted it. She just kept living gratefully each day.
The community was shocked when she died November 10 at age 87.
Hazel had meticulously made all her funeral plans, including a wish to have someone sing at her service. But she hadn't selected who that would be.
A team from Ecumen Home Care & Hospice had been caring for her in her home since April. When Hazel died, the family asked Hospice Nurse Shelly Hanks if she had any ideas about who could sing at the funeral.
Shelly told them that Judy Loecken, a social worker at Ecumen Home Care & Hospice, sings to all her clients. When Shelly asked Judy if she would do it, Judy was conflicted. On the one hand, she had never sung in public. On the other hand, hospice is all about honoring last wishes. So Judy said she would do it if some of her colleagues would join her.
And that's how the "Ecumen Sisters" happened.
Five women on the Ecumen Home Care & Hospice staff in Litchfield who had cared for Hazel agreed to do it — because they were pretty sure that's what Hazel would want them to do.
Sandy Dougherty, the RN Clinical Director; Nicole Larson, the Volunteer Coordinator; and Michaela Nelson, the Massage Therapist; joined Shelly and Judy. When the funeral home wondered how to list them in the program, Hazel's daughter Shelia came up with the name "Ecumen Sisters."
The day of the funeral, the Ecumen Sisters stood in the balcony of the church and sang "On Eagles Wings."
Reportedly, the funeral director said they "sounded like angels."
Sandy says she's flattered by the compliment, but she's still tentative about the group's singing ability. But one thing she is absolutely sure of: "I know we would have made Hazel proud."
__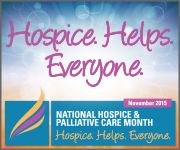 November is National Hospice and Palliative Care Month. This month, the National Hospice and Palliative Care Organization, and other organizations are teaming up to encourage citizens to increase their understanding and awareness of end of life care.
This month, the Ecumen Changing Aging Blog is featuring posts surrounding hospice, palliative care and the wonderful work they contribute.