Ecumen Honors Bob Cervenka, Who Passed Away Saturday
Ecumen honors Robert (Bob) Cervenka, who passed away Saturday at Ecumen Lakeshore in Duluth.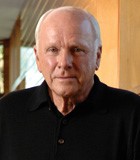 Bob and his wife Debbie have had a profound impact on Ecumen through their leadership and generosity. Our thoughts and prayers are with the Cervenka family.
Read Bob and Debbie's moving story on the Changing Aging blog.
A celebration of Bob's life will be held Sunday, October 18, 2015, in the Great Hall and Ballroom on the campus of UW-Stout from 1-3pm.
Related articles:
Ecumen Receives $5 Million Gift to Help Seniors
Star Tribune Columnist Jon Tevlin: Very bad fall spells trouble ahead for wave of aging boomers