Ecumen Home Care – Twin Cities Inaugurates New Office Space
Ecumen Home Care – Twin Cities held an open house Nov. 17, 2014, to show off its expanded new offices at 199 Coon Rapids Boulevard, Suite 111, in Coon Rapids, Minn.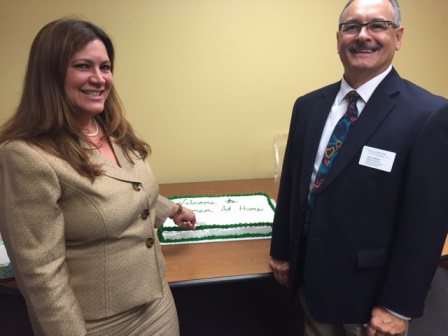 PICTURED AT RIGHT, Frances Fernandez, Director of Ecumen Home Care -Twin Cities, and Terry Mahar, Ecumen Regional Director of Home Care and Hospice, welcome open house guests with cake and refreshments.
Ecumen Home Care – Twin Cities is a Medicare-certified home health agency that provides medical and non-medical home care services for the Minneapolis-St. Paul metro area to help older adults live independently longer in their homes.
Medical home health care is prescribed skilled care provided by a licensed medical professional. Non-medical care assists with daily activities and functions, such as homemaking, personal care and social wellness.
In addition to the Twin Cities area, Ecumen Home Care is a licensed provider serving older Minnesota residents in the Duluth, Litchfield and Mankato.