Ecumen Employees: Sandy Lia's Career of Caring at Ecumen Detroit Lakes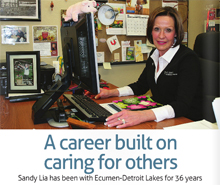 In her 36 years at Ecumen Detroit Lakes, Sandy Lia has been an activity director, a volunteer coordinator, the founder and manager of the adult day services program, a housing manager and currently the fund development coordinator with additional duties in marketing and event planning.
Working with seniors is her passion, and her considerable impact on the Detroit Lakes community recently drew the attention of the Detroit Lake's Tribune. Read about Sandy and her accomplishments in this profile in a special section on Women in Business.