Imagine those weeks leading up to the decision that you need to go live in a nursing home. Everybody is telling all the things you can't do. You can't live alone. You can't drive anymore. You can't live without taking this or that medication. "Can't" and "don't" come at you from every direction and, frankly, you're overwhelmed as you leave your home of many years for this great unknown.
Then you get there, and this woman flashing the biggest smile you've ever seen comes to see you. She wants to know all about YOU. What YOU like. What YOU want to do. She doesn't say "can't," she says "can." She doesn't say "don't," she says "do." She asks you: Is there something you've always dreamed of doing?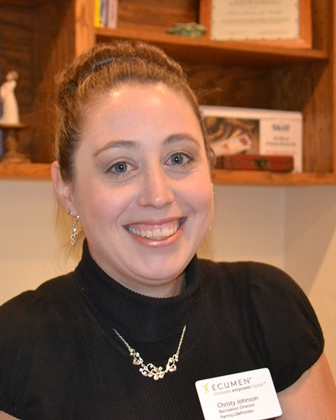 You decide to mess with her a little bit. You say even though you're 90, you've always wanted to go skydiving. She says, "OK, I'll make it happen." And on your 91st birthday, you skydive.
True story — and the video to prove it.
And there are others like it. Christy Johnson, the recreation therapy director at Ecumen Parmly LifePointes in Chisago City, Minn., considers making dreams come true part of her job description. She comes to work every day with one mission in mind: to empower people to live to the fullest and to give them the encouragement and support to do it.
She'll listen empathetically as you make your excuses. You're old, you say. You're in pain. You just want to be left alone. And the next thing you know, you're riding a Harley around Chisago City. She's very persuasive.
Christy's job is all about activity, connection, engagement — living. And she loves it. "I can't imagine doing anything else. It's such a perfect fit for me," she says.
Recreation therapy is something you learn mostly by doing, Christy says, because everybody is different. There is academic training, but in order to be certified, she had to put in 6,000 hours of on-the-job training as an activity assistant, working with a certified mentor.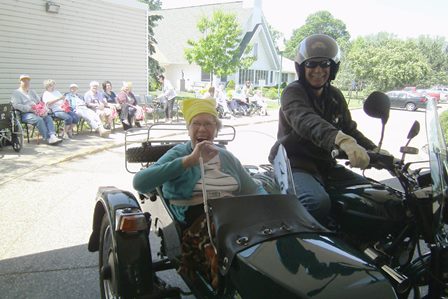 The key to doing the job well, Christy says, is genuinely getting to know residents, finding out what they are passionate about, and helping them find a path to engagement. Little wonder that when people come to live in a nursing home, they often are feeling down and dependent. They are there precisely because their previously independent lives have been turned upside down by significant health problems.
Christy comes to see them within the first 24 hours, bringing the message that they have a whole lot of living yet to do, so let's talk about the things you love. "My goal," she says, "is to give every resident as much quality of life as possible."
In those first conversations with new residents, Christy probes to understand each person as an individual. She first tries to make them as comfortable and at-home as possible. Over the next week, she'll be observing and getting reports from staff on how new residents are engaging. Then she will do an in-depth interview and develop a detailed recreation plan that is part of the resident's overall care plan.
Throughout the day, she and her staff of four activity specialists (plus Maddie the therapy dog) work directly with residents to keep them engaged in things they love to do. It could be games, music or hobbies or the increasingly popular activities of watching Netflix offerings on the iPad or engaging through social media.
Or it could be walking Maddie, a relaxed and good natured Golden Retriever, who has the run of the building and brings smiles wherever she goes. "She knows what she's doing," Christy says. "She knows who wants to see her and who doesn't. And she's such a character."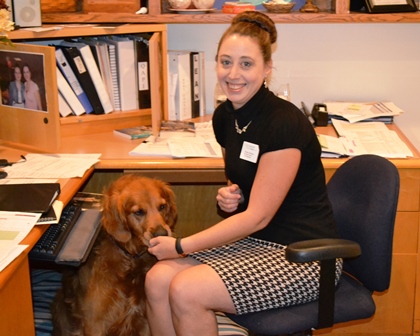 Christy also is a believer in aromatherapy, which she has been using for about eight years. She works with residents to find scents that help calm them, or help them sleep or take their minds off pain. It doesn't work for everyone, she says, but many residents find that it helps and there is no downside in trying.
Recreational therapy is an occupation that sometimes requires intuitive trial and error before finding the right path for an individual. "Not everyone blooms where they are planted," Christy says.
She recalls one of her toughest cases involving a man who had just flat given up. He was angry and depressed, and she worked and worked to make a connection. Finally, he revealed that he used to love making model boats. And Christy told him how much she would like to make a boat with him. As the boat took shape, so did their relationship.
Now, telling the story, she is in tears because he died and the deep bond they had is still very much alive. And that's the toughest part of the job. "Sometimes it's just so hard to say goodbye," Christy says. "You never become immune to grief."
Yet hardest part can also bring the greatest reward, she says. Often you get to know people so well that you quickly become part of their extended family. And the family sincerely lets you know what an important role you have played in the lives of their loved ones.
And you sincerely say: "It has been an honor."