Ecumen Employee Gabbi Langan: "I Love Every Single Day"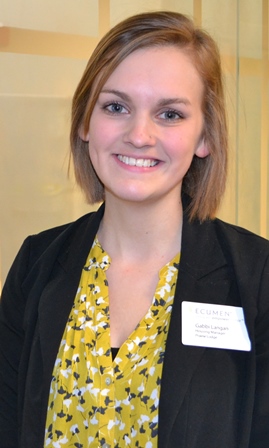 Gabbi Langan, one of Ecumen's youngest managers, is an enthusiatic problem-solver with a passion for working with seniors.
Outside the main office at Ecumen Prairie Lodge in Brooklyn Center, several people are trying to load a large television set into a small car. One of them is Gabbi Langan, who is the new manager in charge of Prairie Lodge. It's an insight into her management style.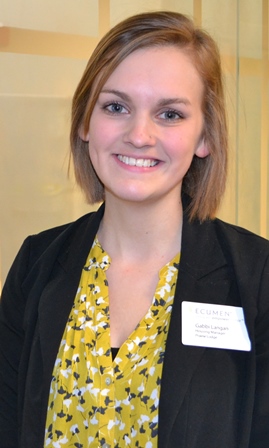 Gabbi is a hands-on problem-solver, and no problem is too big or too small. That helps explain how, at age 24, she came to be one of Ecumen's youngest housing managers.
Ecumen Regional Manager Joe Signore, who picked Gabbi for the Prairie Lodge job, says he was impressed with "her positive energy and willingness to tackle challenges."
Gabbi started working at Ecumen in January at the St. Olaf Community in Minneapolis, which Ecumen managed at the time. She was the Director of Admissions and Marketing who, in a matter of a few months, stood out as a fast-learner who could get things done and solve problems for residents.
When she started at St. Olaf, Gabbi says she knew she was interested in health care marketing and working with older people and was attracted to Ecumen's emphasis on innovation. But she had no idea how quickly she would fall in love with the job and the career path. "You don't realize how rewarding this work is until you actually do it," she says.
"This is exactly what I want to do. I have never enjoyed coming to work so much. I've never had a day since I started in this field when I woke up and didn't want to come to work. I love every single day. Every day is always different. There are always new challenges. It's never boring."
Gabbi says her passion for working with seniors has a lot to do with the quality time she has spent with her grandmother. When she was in high school and college, she lived with her grandmother in Austin, Minn., and often socialized with her grandmother's friends.
"I loved hearing about their experiences," she says. "They have so much more experience than I have. And that's one of the things I love about my job now — just meeting with residents one-on-one and hearing their unique stories. I learn so much about life from them. They've gone through a lot. Older people have given back so much in their lives. The way I see it, the question is: 'Now what can I do for you?'"
Before her move to the management side of health care, Gabbi worked in direct care both in a group home for older women and at a facility for severely autistic children and adolescents. She had studied psychology while in college at Saint Mary's University in Winona, Minn., and realized she "liked learning about what makes each individual tick and what might help them."
Since starting her new job at Ecumen Prairie Lodge in November, she has been reaching out to the families of each resident to get feedback and introduce herself. Plus, she's getting to know the 90-member staff.
In her spare time, Gabbi sings in an eight-member soul band (Ali and the Scoundrels) made up of college friends from Winona.
Does she worry that her relatively young age will be a disadvantage in managing an assisted living facility for older people? Not at all, she says, recalling what a mentor recently told her: "Age is only a problem if you're worried about it yourself."
Clearly, she's not. "I learn every day. If I don't know the answer, I know how to use my resources to find out. I'm not going to guess."