Ecumen Donors Don and Joan Bungum: Benevolence Personified
Don and Joan Bungum of Lindstrom, Minn., are committed advocates for quality senior care.
Don and Joan Bungum are talking across the kitchen table at their home in Lindstrom, Minn., where they have lived the past 44 years. They have been highly involved pillars of this community since they moved here in 1971 when Don became superintendent of schools. Today's conversation is about an issue close to their hearts: the care of seniors.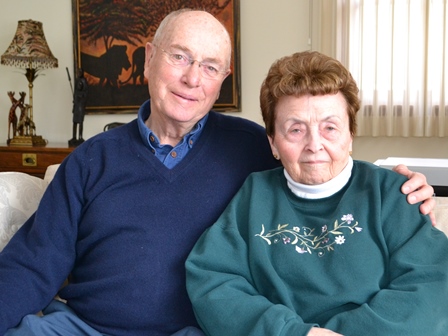 "I just don't understand," Don is saying, "why the governor and the legislature can't see that there are people who really need some help."
Specifically, the legislature is debating whether nursing homes should get higher reimbursements for the care they provide. Don has a keen understanding of the issues. He was on the community board of Ecumen Parmly LifePointes in Chisago City for nine years. Plus, his parents ran a nursing home.
"This is personal," Joan says. "So many people I know live over at Parmly. These are friends of mine."
While the cost of health care is rising substantially, Medicaid reimbursements to nursing home operators are not, and that threatens the quality of care. Nursing homes depend upon government support largely because many seniors are outliving their assets and are simply unable to pay the full cost of the care they need.
So Don and Joan do what they can, giving both time and money. They are generous donors to the Ecumen Benevolence Fund, which was created last year to provide money for the care of seniors who have spent down their assets and face financial ruin. "We need to care for those most in need — regardless," Don says. (That's fairly close to the tagline of the Benevolence Fund: "for those among us most in need.")
Don has just come home from exercising at the Vitalize! Wellness Center at Ecumen Parmly LifePointes, which was built to serve the community when he was on the Parmly board. He and Joan are active volunteers there. Don also works in the woodshop of Parmly's Studios of Art Centre and donates his work to the community.
Don and Joan have led a storybook life built on a foundation of family, church, hard work and perseverance — and generously giving back to their community. They have been married over 60 years, raised three children and are now enjoying their eight grandchildren and a brand new great-grandchild. Joan enthusiastically introduces each one from pictures on the wall, which she calls her "rogues gallery." She delights in their considerable accomplishments and the joy they bring her.
On this sunny winter day, Don and Joan reminisce as they drink tea and look out over North Center Lake, where Don is helping with an upcoming ice fishing tournament. Joan muses about when they were first married and Don worked at the Libby's canning factory to make extra money for the summer just before he took his first teaching job. "He stunk so bad when he came home I made him take off his overalls before he came in the house," Joan laughs, "He smelled like pea juice."
Don had received a draft deferment during the Korean War, until he graduated from Luther College. Then in 1953 he volunteered for the Army and held a clerical job typing orders "sending men all over the world" until he volunteered to become a paratrooper. He and Joan were engaged at the time, and Don felt they needed the extra hazardous duty pay which boosted their limited income 40 percent.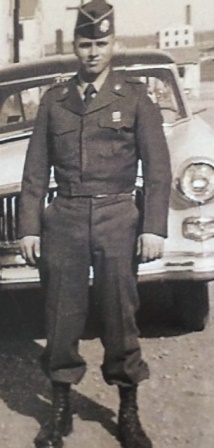 He jokes about the experience now. On his third jump, he looked up and saw a big hole in his parachute, which meant he hit the ground way too fast "and plowed a furrow with my helmet for about 100 yards."
By this time, the war was over, and he did not have to go to Korea and only had to do a few more parachute jumps. He got an early discharge and soon took his first teaching job in New Albin, Iowa, in 1955, beginning a climb up the career ladder that would lead to the schools superintendent job in the Chisago Lakes district. And while he was doing this, he was going to graduate school, first at the University of Wyoming for his masters and then to the University of Minnesota for his PhD.
Along the way, he was a teacher in Redwood Falls, a principal in Ceylon, Minn., and an assistant principal at Minnetonka High School, where he was in charge of "vice." In other words, he was the school disciplinarian — a particularly challenging job at the height of the Vietnam War, when students' respect for authority was legendarily low. He was offered the Superintendent's job in the Chisago Lakes district in 1969, and would serve in that role for the next 18 years.
"It was a really good experience," Don recalls. And Joan chimes in, "But the first five years were hell!"
During those first years, he was shepherding the district through a difficult time of consolidation. He strongly advocated for building a new high school, which finally happened after the project was voted down seven times.
In 1987, Don was able to retire from the school system with pension benefits. "I was getting a little bored, and wanted to see what else I could do." He was only 58 at the time and began what was to be a highly successful career in cash management for school districts and counties. He helped grow the funds he managed to billion-dollar levels.
After doing that job until 2005, he says he officially retired. Joan just laughs. "He needs something to do all the time."
Don, who was a history teacher early in his career, found his next calling as a volunteer for the Veterans History Project, a congressionally mandated program to preserve the memories of veterans' military service. He saw a newspaper article about the program and offered to help by interviewing veterans on videotape.
Over the past 10 years, he has interviewed about 200 veterans using a donated video camera. The videos are archived in the Library of Congress, as well as the Chisago County History Center. Copies also are given to local VFWs, as well as the veterans and their families. Don says stories sometimes come out in the interviews that the families have never heard before.
"I enjoy doing it," Don says. "I don't know how much longer I can keep going, but we'll see how it goes."
Joan laughs. "Don always says that nobody in the Bible ever retired."