Ecumen Detroit Lakes has won a "Best in Show" SAGE Design Award for its new Transitional Care Unit and Rehabilitation Center that opened earlier this year.
The Minnesota Chapter of the Society for the Advancement of Gerontological Environments (SAGE) presented the award at the recent LeadingAge Minnesota 2016 Institute & Expo. SAGE is a nonprofit organization dedicated to improving physical environments for older adults.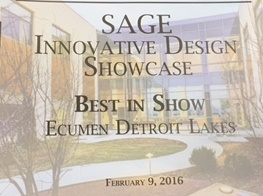 The new Transitional Care Unit and Rehabilitation Center was a $12 million, two-year project made possible by contributions from individuals, businesses and foundations. The project is a key component of what is envisioned as an innovative "one-stop aging services hub" to help keep seniors in rural Becker County healthier and independent. In its award presentation, SAGE cited Ecumen Detroit Lakes' goal to provide "a whole person approach and create a community hub that helps integrate technology, education, fitness, nutrition and health care."
SAGE pointed to a number of design features that made the project award-winning, including the community wellness area with a pool, fitness center and yoga space; an art gallery featuring local artists; an internet café, telehealth center, business center, classroom and chapel; and state-of-the-art Transitional Care Units. Also, the award praised the large windows that bring natural light throughout the building and the use of brilliant colors.
"We really appreciate the recognition from SAGE," said Ecumen Senior Business Development Director Dena Meyer, who managed the design and construction process. "The award, along with feedback from our residents and the community, is validation that we achieved our goal of creating a state-of-the-art wellness hub serving the entire Detroit Lakes area."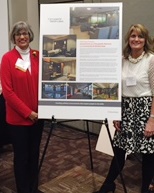 With the SAGE Award poster, Ecumen Detroit Lakes Executive Director Janet Green (left) and Ecumen Senior Director of Business Development Dena Meyer