More than 200 people filled the halls at Ecumen Detroit Lakes last Saturday for the community's annual charity benefit, which also served as a sneak preview of the newly remodeled campus and a screening of the critically acclaimed documentary on singer Glen Campbell's experience with Alzheimer's disease.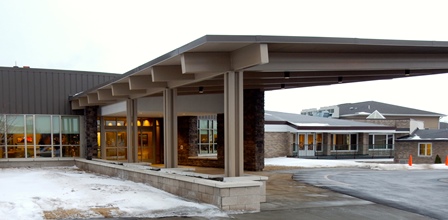 "What a wonderful event!" said Sandy Lia, the Fund Development Director. "We were so proud to welcome the community to our new space and take them on tours. Everyone was in awe of the new wellness center."
Plus, there was standing room only for screenings of "Glen Campbell: I'll Be Me," the documentary that shares the personal story of Glen Campbell and his family as they courageously cope with his Alzheimer's disease. Proceeds from the screenings, offered through a partnership with ACT on Alzheimer's and Volunteers of America, will go to benefit residents living with Alzheimer's and other related dementias, their caregivers and the award-winning Ecumen Awakenings™ program, which focuses on dementia care that does not rely on the use of highly sedating drugs.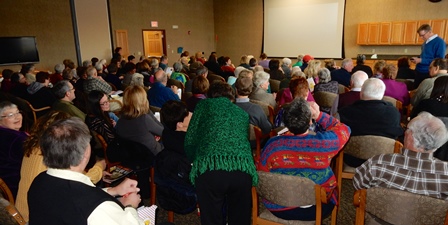 The innovative new rehabilitation and wellness center at Ecumen Detroit Lakes is a state-of-the-art "one-stop aging service hub" transforming the senior care campus into a health, wellness, social and educational center for the entire community. The center aims to create an "ageless" approach to managed care for all people and engage the entire region. The center is still undergoing some final renovations and will be officially dedicated in April.
"This was such an uplifting event having so many people turn out to see the dream of the past two years become reality," said Janet Green, Executive Director of Ecumen Detroit Lakes. "We are so grateful to serve such a generous and supportive community."
Pictured below, left photo: Ecumen Detroit Lakes Chaplain Peter Gallatin, Executive Director Janet Green, and Fund Development Director Sandy Lia. Right photo: Volunteer Sophie with Lia, Gallatin and Peter, Elsie and Amy Williams, who is Ecumen's Director of Development.