Ecumen Detroit Lakes to Celebrate New Wellness Center At May 6 Grand Opening
Ecumen Detroit Lakes will host an open house Wednesday, May 6, 2015, from 3 to 6 p.m., to celebrate the grand opening of its new Transitional Care Unit and Rehabilitation Center.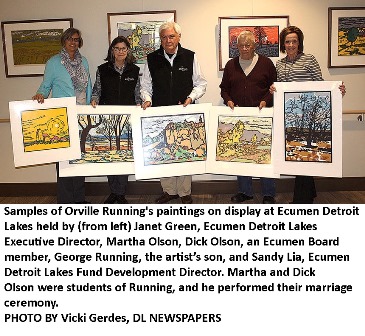 The public is invited to visit for tours, demonstrations, music, food and beverages and an art exhibit featuring the work of Orville Running, who was professor of art for 40 years at Luther College in Decorah, Iowa. (A recent Detroit Lakes Online story gives colorful background on the art exhibit and the artist.)
There will be a ribbon cutting ceremony at 4 p.m., conducted by the Detroit Lakes Regional Chamber of Commerce.
"We're so excited to show the community our new state-of-the-art center," said Janet Green, executive director of Ecumen Detroit Lakes. "We're proud to be offering the most up-to-date approaches to rehabilitation and therapy for those recovering from surgery, injury and illness."
The new Transitional Care Unit and Rehabilitation Center was made possible by generous contributions from individuals, businesses and local foundations. It features private treatment rooms, a therapy pool, steam shower, business center, snack shop and chapel.
Ecumen Detroit Lakes is located at 1415 Madison Avenue in Detroit Lakes. For more information go to www.ecumendetroitlakes.org.