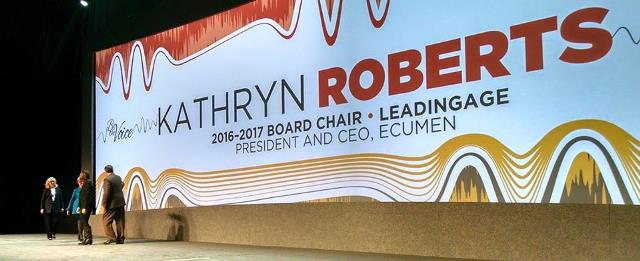 Kathryn Roberts, President and CEO of Ecumen, today officially became Chair of the Board of Directors of LeadingAge, the national association of not-for-profit aging services providers.
After taking the oath of office at LeadingAge's annual meeting in Boston, Roberts told attendees that she expected the next few years in aging services to be a challenging but energizing time. "As I move into my new role," she said, "one word best describes what I see for now and for the near future: Transition. Transition everywhere … washing over us … testing us… daring us to be bold… to be relevant… to meet the market where it is, rather than where we wish it was."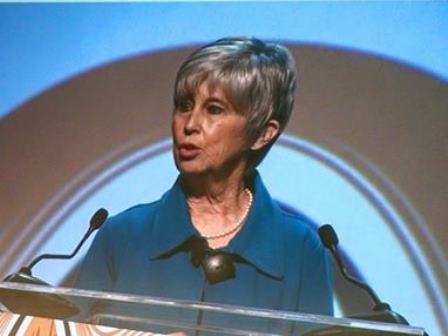 Roberts said Baby Boomers have ideas and expectations about aging far different from the generation before them — and they will force radical changes to how aging services are delivered.
"They are telling us — reminiscent of the 1960s — that they have little use for the institutions we have built," Roberts said. "They are telling us that 'home' is the new nursing home. They are telling us they would like to be assisted in living at home — rather than in Assisted Living."
LeadingAge has been on a mission for the past 50 years to change the way people think about aging, Roberts noted. "We have been pushing aggressively to change how aging is viewed, and we are succeeding," she said. "Ironically, that's why we're facing so much transition. Hearts and minds are in fact changing, and transition is the consequence. Our newer customers are making it clear: They want different solutions from what we have offered in the past. And they flatly don't want to come to us. They want us to come to them."
Home and community-based services are the promising new institutions for aging Americans, she said, not only because that is what people want but also because it is a more efficient way to deliver care. She cited the creation of age-friendly communities where people can more easily age in place and dementia-friendly communities where people with Alzheimer's can safely live in their neighborhoods, cared for by their neighbors as well as their families.
"In short, we are starting to solve problems for aging citizens right where they live," Roberts said. "And therein lies the hope for how we might fill the service and financial gap that is overwhelming federal and state governments."
Roberts challenged the attendees to not to shy away from bold solutions "even as the ground shifts beneath us and threatens to make some of our current offerings obsolete." She said investments in brick-and-mortar communities for aging Americans should not stifle innovation.
"As non-profits, we come from a history — a proud history — of meeting community needs with a primary concern for what's right above a concern for what's profitable," Roberts said. "We are largely driven by mission, not money. We have historically embraced some of the most intractable problems in our communities and found abiding solutions. So let's get to the work at hand, embracing that unknown future. Until there is certainty, we must provide the absolute best leadership."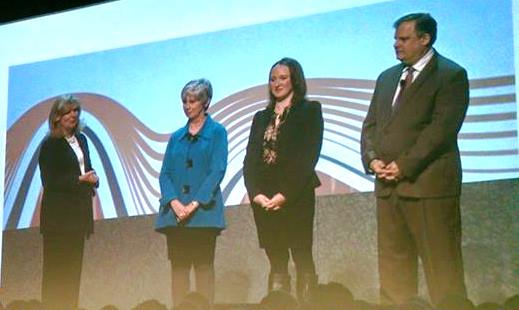 Kathryn Roberts, second from left, after taking the oath of office. With her (left to right) are Gayle Kvenvold, President and CEO of LeadingAge Minnesota, Kathryn's daughter Alex Hiniker Hausler, and David Gehm, outgoing LeadingAge Board Chair.