Kathryn Roberts, Ecumen CEO Emeritus, has been recognized as a top leader in the field of long-term care and senior care. Roberts was named to the Hall of Honor in the nationwide 2019 McKnight's Women of Distinction awards.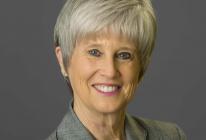 The program is overseen by independent trade publications McKnight's Long-Term Care News and McKnight's Senior Living, which received hundreds of nominations in this, the program's inaugural year. An independent panel of judges comprising industry professionals and McKnight's editors selected the winners, who were announced March 13 and March 14.
Roberts became CEO Emeritus of Ecumen in 2019, after serving as President and CEO since 2003 and transforming the organization into one of the country's leading nonprofit providers of diversified senior housing and services. As CEO, Roberts became an international thought leader on aging, rising to the role of Chair of the National Board of Directors of LeadingAge in 2016 and being named one of the 2017 Top 50 "Influencers in Aging" by Next Avenue.
As CEO Emeritus, Roberts leads Ecumen Philanthropy and continues her work to create a more age-friendly world as she supports the CEO transition. Under her leadership, Ecumen has been recognized for its innovation, bringing new empowering technologies to seniors and their families; developing a nationally acclaimed program in dementia care; expanding housing options to new markets and creating a national senior housing development business; and shaping a workplace culture that has led to Ecumen being named 10 times as one of the "Best Places to Work" by the Minneapolis-St. Paul Business Journal and has also been named one of Minnesota's Top Workplaces by the Minneapolis Star Tribune and Minnesota Monthly Magazine.
This is McKnight's first year for the Women of Distinction program, for which PointClickCare is the exclusive platinum sponsor. Overall, 19 Hall of Honor and 21 Rising Star recipients were named. The former category is for outstanding leaders who serve at the vice president or higher level, while the latter is for women under 40 or with less than 15 years of experience in the field.
Collectively, McKnight's Women of Distinction have helped their organizations achieve major patient care and financial performance milestones. Winners include direct care providers, as well as association and academic professionals. They have served as mentors or inspiration to their colleagues and in many cases pushed through personal hardship as well.
"The caliber of talent among nominees blew us all away," said McKnight's Vice President and Editorial Director John O'Connor. "It was humbling to see so many detailed and personalized nominations for hundreds of women in the field. We are excited to be the industry leader in acknowledging the contributions this group has made, and many are only getting started."
McKnight's will announce the 2019 Lifetime Achievement Award winner in late March.
All of the winners will be honored May 16 in Chicago. Profiles of each will be featured both online and in print editions of McKnight's Long-Term Care News and McKnight's Senior Living. Visit mcknights.com and mcknightsseniorliving.com for more information. On Twitter, follow with #womenofdistinction.
The 2019 McKnight's Hall of Honor inductees are:
Lori Alford, COO, Avanti Senior Living, Conroe, TX
Brenda Bacon, President and CEO, Brandywine Senior Living, Mt. Laurel, NJ
Winsome Bent, Regional Director, The Bristal Assisted Living, North Hills, NY
Crystal Bowens, Ph.D., President, CB Strategies and Solutions, Demorest, GA
Pilar Carvajal, CEO, Innovation Senior Management, Miami
Leslie Cunningham Campbell, Executive Vice President and Chief Operating Officer, Diversicare, Brentwood, TN
Jamie Dlatt, Vice President of Operations, Legacy Healthcare, Chicago
Kim Estes Elliott, Senior Vice President of Clinical Services, Brookdale, Nashville, TN
Kimberly D. Green, Chief Operating Officer, Diakonos Group, Edmund, OK
Stephanie Harris, CEO and Principal, Arrow Senior Living, St. Charles, MO
Andrea Leebron-Clay, Owner, Nightingale Healthcare, Seattle
Mary Leary, CEO and President, Mather LifeWays, Evanston, IL
Barb Masella, Vice President of Operations, HCF Management, Lima, OH
Alla Onitskansky, Senior Vice President of Clinical Operations, Genesis Rehab, Lyndhurst, OH
Tammy Jo Painter, Vice President of Compliance and Operations, American Medical Facilities Management, WV
Jolene Roberts, President, Hillcrest Health Services, Bellevue, NE
Kathryn Roberts, CEO Emeritus, Ecumen, Minneapolis
Katie Smith Sloan, LeadingAge President and CEO, Washington, D.C.
Lizzy Straus, Executive Vice President, CareOne, Fort Lee, NJ
Rising Stars Class of 2019
Sarah Belmont, Senior Vice President of Financial Planning and Analysis, Brookdale Senior Living, Nashville, TN
Vanessa Brookes, Director of Quality, Friendly Senior Living, Rochester, NY
Jennifer Cisneros, Nursing Home Administrator, The Williamsport Home, Williamsport, PA
Kristy Ruppe Craddock, Senior Vice President of Sales and Marketing, Commonwealth Senior Living, Charlottesville, VA
Kari Dick, Executive Director, Touchmark, Fargo, ND
Erin Donaldson, Vice President, Director of Operations Management, Life Care Services, St. Charles, IL
Debora Erksa, Director of Life Enrichment & Cultural Arts, Ohio Living Breckenridge Village, Willoughby, OH
Felichia Fields, Assistant Executive Director, St. Catherine's Village, Madison, MS
Scarlet Star Gardner, Director of Admissions and Marketing, Willow Ridge Rehabilitation, Rutherfordton, NC
Jessica Garvin, Administrator, Gregston's Nursing & Rehab and West Wind Assisted Living, Marlow, OK
Bre Grubbs, Partner and Senior Vice President of New Business, Leisure Care, Seattle
Katie Jayne, Director of Community Life Services, Bishop Gadsden, Charleston, SC
Natalie Law, Social Services Director, Life Care Centers of America, Life Care Center of Stonegate, Parker, CO
Meg (Margaret) Lutze, Chief Operations Officer, Good Shepherd Community Care, Newton, MA
Tabassum Majid, Ph.D., Executive Director, Integrace Institute, Eldersburg, MD
Jennifer Maina, Director of Nursing, Larksfield Place, Wichita, KS
Rachel Monger, Vice President of Government Relations, LeadingAge Kansas, Topeka, KS
Rebecca Scott Rawn, National Director Communications and Strategic Partnerships, Extendicare, Markham, Ontario
Berenice Galvez Soto, Quality Assurance Compliance Coordinator, HealthPro Heritage, Broadview, IL
Christine Ulbricht, Ph.D., Associate Professor, University of Massachusetts Medical School, Worcester, MA
Shamim Wu, Chief Operating Officer, Eclipse Senior Living, Lake Oswego, OR
For more information, visit https://womenofdistinction.splashthat.com/
or contact McKnight's Senior Editor Elizabeth Newman elizabeth.newman@mcknights.com