Ecumen Century Club: Happy 104th Birthday Muriel Swenson
Ecumen honors Muriel Swenson, a resident of Sunnyside Care Center, who is 104.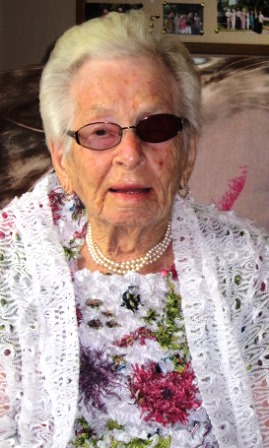 Ecumen honors Muriel Swenson, who is 104.
Born: August 17, 1912, Cuba Township, Minn., north of Lake Park.
Residence: Sunnyside Care Center, Lake Park, Minn.
Hobbies/Interests: Loves dogs and cats, art, reading, quilting afghans and embroidering.
Family: 2 children, 7 grandchildren, 17 great-grandchildren, 19+ great-great grandchildren. Was married to Roy just a week short of 75 years. "I've got a nice, loving family," Muriel says.
Occupation: Dairy farming and later a real-estate business with Roy.
Secrets of Longevity: "I've always been optimistic and happy. I try to set a good example. And I've had many interests in my life. Or it could be the green onions," Muriel says with a smile. She loves green onions and grows them in indoor window boxes year round.
Interesting Facts: Muriel has traveled extensively with her granddaughter, including trips to Alaska, Sweden, Norway and Hawaii.
Congratulations on your 104th birthday, Muriel! Ecumen honors you.