Ecumen Century Club: Happy 104th Birthday Betty Sampson
Ecumen honors Betty Sampson, a resident of Ecumen Evergreens of Fargo, who turns 104 today.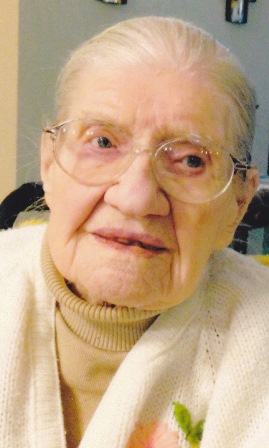 Ecumen honors Betty Sampson, who is 104 today.
Born: September 13, 1910, in Finley, N.D.
Residence: Ecumen Evergreens of Fargo.
Hobbies/Interests: Gardening, reading, walking, cooking, pottery painting and traveling. Traveled throughout North America, South America and Europe. Her favorite trip was visiting family in Stolemen and Bergen, Norway.
Occupation: Aerospace worker. Assembled fuselage panels for Lockheed Aircraft Corporation and received many awards for outstanding performance.
Secrets of Longevity: No secret.
Interesting Facts: Favorite foods are lefsa, lutefisk, macaroni hotdish and Jello salad. "I loved any song my brother Phillip played on is accordion."
Congratulations on your 104th birthday, Betty! Ecumen honors you.