Ecumen Century Club: Happy 103rd Birthday Thelma Andersen
Ecumen honors Thelma Andersen, a resident of St. Mark's Living, who is 103.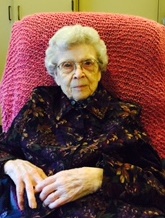 Ecumen honors Thelma Andersen, who is 103.
Born: September 8, 1913, near Dows, Iowa.
Residence: St. Mark's Living in Austin, Minn.
Hobbies/Interests: Gardening, crochet, needlepoint, sewing and cooking. Especially loved cooking big family meals.
Family: 3 children, 7 grandchildren, 13 great-grandchildren. Married to Harold (Andy), now deceased, for 50 years.
Occupation: Homemaker and volunteer work at church.
Secrets to Longevity: Strong faith in the Lord. Never smoked or drank. Always kept a positive attitude. Never critical.
Interesting Facts: Because her family was very poor, she went to work when she was in the 8th grade as a caregiver for a woman who was disabled.
Congratulations on your 103rd birthday, Thelma! Ecumen honors you.