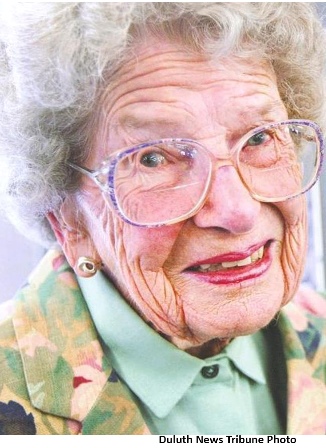 Ecumen honors Katherine (Kay) Coventry, who is 103.
Born: Nov. 23, 1912, in New York City.
Residence: Ecumen Lakeshore in Duluth, Minn.
Hobbies/Interests: Writing, reading, knitting, gardening. Formerly was an avid walker. Joined a walking club in Great Britain, which she attended each autumn until she was 90.
Family: Married to William, now deceased, for more than 30 years. Three children and three stepchildren, and eight grandchildren and 2 great-great grandchildren.
Occupation: Office manager for radio station WRFW. Parish secretary, Episcopal Church.
Interesting Facts: Kay belongs to Lake Superior Writers and has written and published her memoirs. Last year, the Duluth News Tribune ran this story about Kay, recognizing her generous contributions to the Duluth Public Library.
Congratulations on your 103rd birthday, Kay! Ecumen honors you.