Ecumen Century Club: Happy 103rd Birthday Eldora Clark
Ecumen honors Eldora Clark, a resident of Ecumen Bethany Community in Alexandria, who is 103.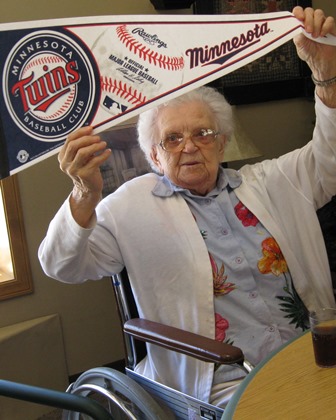 Ecumen honors Eldora Clark, who is 103.
Born: Nov. 12, 1913, near Kensington, Minn.
Residence: Ecumen Bethany Community in Alexandria, Minn.
Hobbies/Interests: Avid Minnesota Twins fan. Watching old movies and TV shows. She especially likes Shirley Temple and Abbott and Costello movies and TV shows such as "I Love Lucy," "Andy of Mayberry," and "The Beverly Hillbillies."
Family: Married to Lawrence, now deceased, for 60 years. Two children and four grandchildren.
Occupation: Homemaker and helping with the family farm; worked in retail sales after moving to town, mainly in women's clothing—many years at BonJos of Alexandria.
Secrets of Longevity: Staying interested in things, enjoying life and maintaining good health.
Interesting Facts: Her mother died when she was 9 years old, and Eldora moved to Alexandria at age 14. She worked her way through high school. She enjoyed dancing and bowling. At age 65 she learned to play golf and several years later learned how to play bridge.
Congratulations on your 103rd birthday, Eldora! Ecumen honors you.