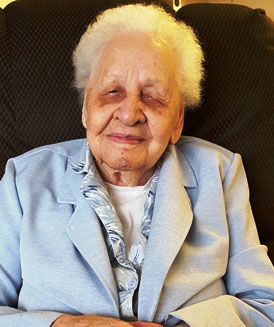 Ecumen honors Viola Falling, who is 100.
Born: Dec. 15, 1915, in near Hutchinson, Minn.
Residence: Ecumen Oaks & Pines in Hutchinson, Minn.
Hobbies/Interests: Enjoys listening to Minnesota sports teams on the radio — baseball, football and basketball. Also enjoys listening to old-time music.
Family: Married to Oscar for 50+ years. Three children.
Occupation: Worked as a cook for the Hutchinson Public Schools, where she did all the baking. The kids especially enjoyed her brownies.
Secrets to Longevity: "Live a clean life."
Interesting Facts: Growing up, her family would take a horse and buggy from their farm into town. Viola learned to play the organ by ear. After taking two lessons, her instructor told her she didn't need any more lessons.
Congratulations on your 100th birthday, Viola! Ecumen honors you.