Ecumen Century Club: Happy 100th Birthday Helen Berger
Ecumen honors Helen Berger, a resident of Ecumen Le Center, who is 100.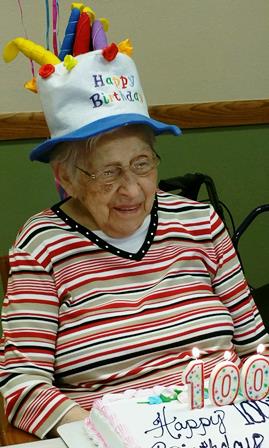 Ecumen honors Helen Berger, who is 100.
Born: February 24, 1916, in Le Center, Minn.
Residence: Ecumen Le Center in Le Center, Minn.
Hobbies/Interests: Loves to play cards and sew. Used to make lots of clothes for her family.
Family: Married to John Berger, now deceased, for 64 years. Four children, 8 grandchildren, 16 great-grandchildren and 4 great-great grandchildren.
Secrets of Longevity: Led a good life.
Other Interesting Facts: In honor of her birthday, Helen was profiled in the Le Center Leader this week. You can all about her life and family at this link.
Occupation: Teacher and worked at Spors Wholesale House.
Congratulations on your 100th birthday, Helen! Ecumen honors you.