Ecumen Century Club: Happy 100th Birthday Edith Tauer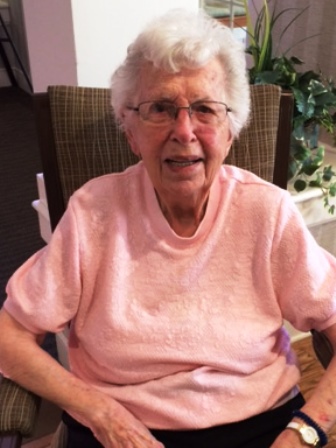 Ecumen honors Edith Tauer, a resident of Ecumen Lakeview Commons in Maplewood, Minn., who is 100.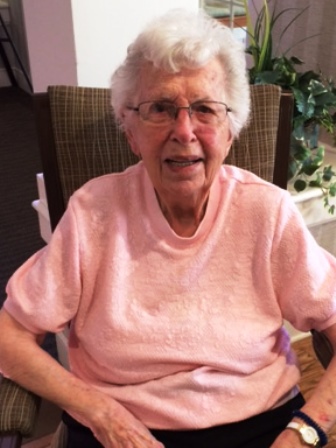 Ecumen honors Edith Tauer, who is 100.
Born: August 3, 1916, in Saint Paul, Minn.
Residence: Ecumen Lakeview Commons, Maplewood, Minn.
Hobbies/Interests: Crocheting and knitting. Played the violin for a long time, including at the Saint Paul Auditorium. Makes over-the-moon boiled raised dumplings.
Family: Four children, 8 grandchildren, 4 great grandchildren and one dog — Tippy the Mexican Chihuahua. Married to Ray J., now deceased, for 46 years.
Occupation: Cashier at Macy's and also worked at her father's root beer stand at Larpenteur and Rice Street in Saint Paul. "I also washed a lot of diapers for my parent's other nine children."
Secret of Longevity: "You have to be an angel. [Ha, ha!]." Walks three miles every day with neighbors, and jokes that she only has to support nine fingers (see interesting facts below).
Interesting Facts: When she was six years old, Edith took a dare by a cousin to stick her finger in the end of a spinning pipe. Her finger got stuck and was twisted off. In the ensuing panic, her grandma backed the car out of the driveway with the door open. The car door caught on something and was knocked off. They took another car to the hospital.
Another interesting fact: Edith only spoke German when she started first grade at St. Bernard's School.
Congratulations on your 100th Birthday, Edith! Ecumen honors you.