Ecumen Century Club: Happy 100th Birthday Alva Morrison
Ecumen honors Alva Morrison, a resident of Ecumen Meadows in Worthington, who is 100.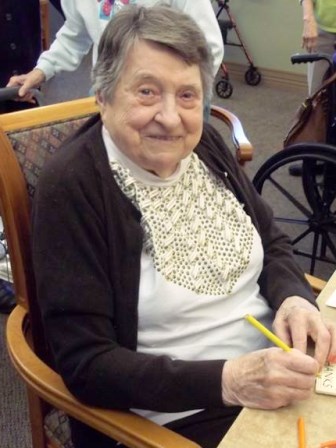 Ecumen honors Alva Morrison, who is 100.
Born: May 21, 1916, in the rural Sioux Valley area of Southwest Minnesota.
Residence: Ecumen Meadows in Worthington, Minn.
Hobbies/Interests: Very involved in 4-H leadership and Farmer's Union. Enjoyed making knickknacks from dried wood, loved to play cards (500 & pinochle). Went to California each year (her son lived there), loved to cook and entertain company, sang in the church choir and Meadows choir and loved to shop. Enjoyed entertaining, baking and having friends over. Church and religion are still very important to her.
Family: Married to Clarence, now deceased, for 55 years. Two children and 11 grandchildren, 14 great-grandchildren and 8 great-great grandchildren.
Secrets of Longevity: Good genes. Alva's mother lived to be 94 and her aunts lived well into their nineties. He grandmother was 96 when she passed away. Her philosophy of life is "have a good time and let it (stress/ disappointments) go." She says: "I feel good. I make up my mind just to feel good. Just go day to day. Keep moving. I just don't think about it." (She still exercises daily.) Another tip: "I think everyone in the world would be better off if we all just learned to get along."
Occupation: Retail sales and volunteer jobs in Worthington. Also was a greeter at the middle school.
Interesting Facts: Alva is a twin. Her brother's name was Alvin.
Congratulations on your 100th birthday, Alva! Ecumen honors you.