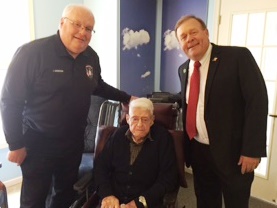 John Scanlan, a resident of Ecumen Lakeview Commons, recently celebrated his 100th birthday and received a tribute from Oakdale, Minn., city officials.
John (center) is pictured with Jeff Anderson, Oakdale Fire Chief (left), and Stan Karwoski, Mayor of Oakdale (right). They recognized John for his many contributions to the city — especially for starting the Oakdale Fire Department.
The Mayor's card to John said: "John, I am very excited and honored to visit with our 1st Oakdale Fire Chief. I thank you for your service to Oakdale and residents. I wish you many more birthdays!"
John says his secret to longevity is "walk every day, stay out of debt and always say your prayers."
Happy 100th Birthday, John! Ecumen honors you.