Ecumen Bethany Dining Director Val Jerzak Serves Up a Menu for Changing Tastes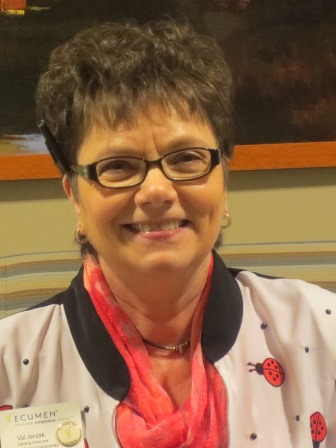 Val Jerzak has the high-stress job of pleasing a hundred or so experts every day, three times a day.
Val Jerzak has the high-stress job of pleasing a hundred or so experts every day, three times a day. She's the dining director at Ecumen Bethany Community in Alexandria, Minn., and when it comes to food, everyone has an opinion that matters.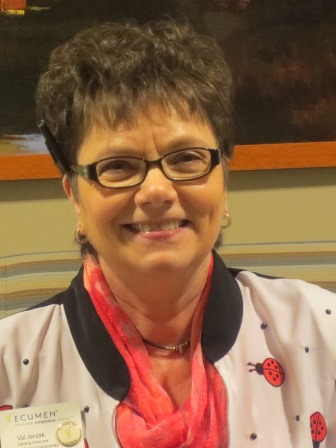 "Everybody is an expert on food," Val says. "Everybody is an expert on what they like… how they used to do it… or how mother used to do it. You've got to listen to what they are saying — and listen very carefully. And you've got to be flexible and take criticism well."
Every person who comes into the community, whether for long-term care or short-stay rehabilitation, has a conversation with Val about what they like to eat and any dietary restrictions they have. Plus, the State of Minnesota has a say too. There are state regulations on what must be served — five ounces of protein, five fruits and vegetables, a starch. Balancing all these specifics on one menu, and staying within her budget, is a daily challenge.
For an added layer of complexity, Val says tastes have been changing markedly over the past few years. It used to be that meat and potatoes were just fine in farmland Minnesota. Tried-and-true recipes that usually always work — like meat loaf and roast beef and fried chicken — still are in demand, especially among the older long-term care residents. But as the Boomer generation comes in for short-stay rehabilitation, they are bringing different ideas.
"Newer residents are more health conscious," Val says. "And they have higher expectations."
There is much higher demand for fresh produce and entree salads— and for smaller portions. Potatoes still have a central role on the menu, she says, but they need to be prepared in a variety of different ways.
Val welcomes the trend toward fresh produce, and wants to encourage it. "People get so excited about fresh tomatoes," she says.
But getting fresh produce in the necessary quantities is problematic. There have been times when she's gone to the farmers' market herself, but that is not always practical. So she has been working with a cooperative of local growers to figure out a way to get what she needs — and have it delivered.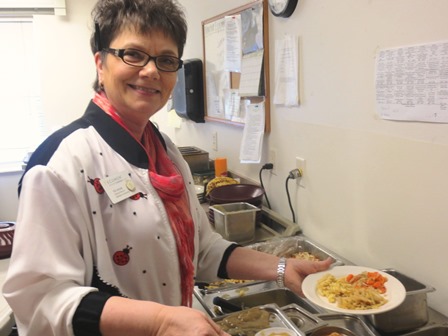 Val says there has not been a high demand for ethnic foods, except Mexican, which has become increasingly popular lately. Even though many of the residents have Scandinavian heritage, she is surprised that residents shun their traditional foods — except lutefisk. So she does a lutefisk dinner every January. And this past month she went through 35 pounds of the love-it-or-hate-it Scandinavian staple.
Since residents are paying a lot more attention to their food choices, Val is spending increasingly more of her time probing for feedback so she can write menus that work for everyone. In additional to her individual conferences with residents, she also holds group menu meetings to gather on-going suggestions. She does "round robin" meetings in each household area to ensure more participation. Plus, she regularly walks through the dining room interacting with residents.
"If something's not working, I hear about it," Val says.
Sometimes residents will ask for things that are just too labor intensive to do on a large scale in the kitchen. But working with Activity Director Vanessa Warner, Val has found a solution: Cooking projects can become part of the regular activity schedule. Recently, for example, a craving for Belgian waffles prompted Brenda Hvezda, an activity aide, to plan the meal as her morning activity and residents made their own waffles.
In addition to regular meals, Val and the dining staff also create special occasion events, such as wedding anniversary dinners. Residents are treated to a celebratory dinner the month of their wedding anniversary. They can invite guests to a special meal with cake, sparkling juice and candlelight. "We re-live the day," Val says. "Wedding anniversaries are such an important part of people's lives, and we help them celebrate and reminisce."
Val has been at Bethany for 18 years total. First, she did a 10-year stint, then moved away to South Dakota. Eight years ago, she returned. She had been considering a move back for family reasons, and coincidentally, Bethany called to see if she might want her old job back. "Honey," Val said to her husband, "I think we're supposed to move home."
Looking back on her time here, Val says one of the major changes in her job is that she now spends far more time in conferences with residents about their dietary preferences and needs than she spends in the kitchen. The time of just cooking and serving is long gone. Now you serve by listening how each person fundamentally relates to food, which is key to customer satisfaction.
The concept of "resident choice" is fully ingrained in the community's culture. That's a good thing, Val says, because her job is not just about serving meals. It's about creating home.