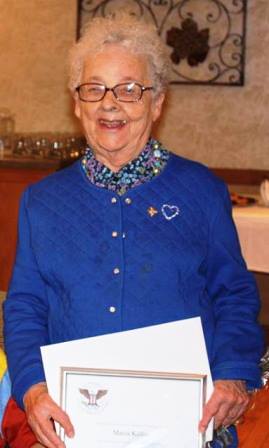 Mavis Keller, a veteran volunteer at Ecumen Lakeshore in Duluth, was surprised last week in a ceremony honoring her with the President's Volunteer Service Award.
Ms. Keller has been a Meals on Wheels Volunteer at Ecumen Lakeshore since 2006, where she has contributed 4,559 volunteer hours. Meals on Wheels is a community-based service that provides fresh, nutritious meals delivered directly to the homes of seniors and individuals with disabilities so they can continue to live independently.
The President's Volunteer Service Award (PVSA) recognizes and honors volunteers who set outstanding examples that inspire community service and volunteerism.
Ms. Keller volunteers through the Arrowhead Retired and Senior Volunteer Program (RSVP), which engages people 55 and older in volunteer service to meet critical community needs. Arrowhead RSVP has partnership agreements with 82 private nonprofits, health care and public agencies in the Duluth area and has 470 registered volunteers.