Ecumen Diversity & Inclusion Learning Event – NAMI Minnesota from Ecumen on Vimeo.
One in five people reading this sentence has some form of mental illness.
And many either don't know it or are in denial, according to Kay King, a community educator from the Minnesota chapter of the National Alliance on Mental Illness (NAMI). "On average people wait 10 years to get help for a mental illness," she said.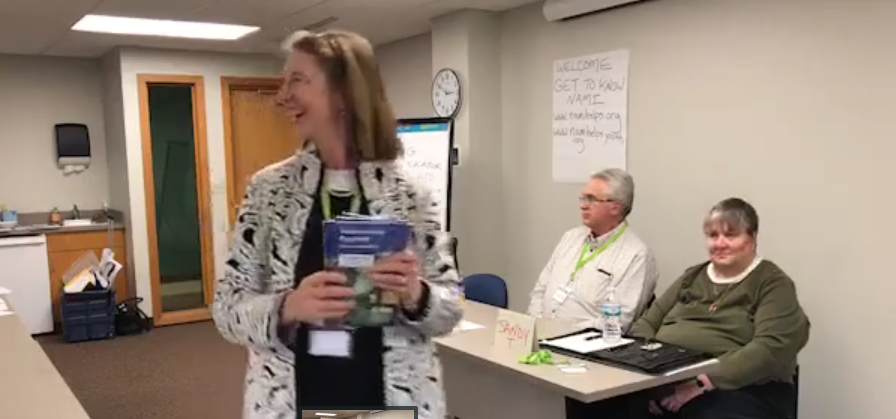 Kay visited the Ecumen Home Office April 27, 2017, in the third of a series of learning events for Ecumen employees designed to increase understanding and knowledge of issues related to diversity and inclusion. This program is sponsored by Ecumen's Diversity and Inclusion Council, a group of employees chartered to advance Ecumen's diversity and inclusion goals.
Mental illness is a medical illness of the brain, yet it is regarded differently than other illnesses, Kay said. The stigma often keeps people from seeking help, plus getting a diagnosis and access to services and medication can be a long, frustrating process.
"The stigma thing," she said, is reflected in all the "bad words" we use to label mental illness. "Let's talk about all the crazy, nuts and cuckoo words," she said. "Do you talk about your family members with cancer like that? What are all the bad words you use to talk about family member with cancer? What is the crazy-nuts-cuckoo for cancer? What is the crazy-nuts-cuckoo for heart disease? You can make a difference just by using person-first language. Just don't use that crazy-nuts-cuckoo stuff anymore. Just don't."
Kay said we often reach out to help friends with diseases like cancer but are much less likely to reach out to those with mental illness. She said growing up her mother was frequently institutionalized with episodes of mental illness, yet people didn't bring hotdish over like they probably would have if she had been hospitalized with cancer. "People don't get better without help from others," she said, "no matter what the illness."
Everyone can benefit from more mental health education "that you didn't get in 10th grade health class," Kay said, recommending the basic Mental Health First Aid course offered by NAMI.
Typically, she said, the onset of mental illness is during youth. Fully 50 percent of people with mental illness have signs and symptoms by age 14, and 75 percent by age 24. Anxiety disorder is the most common form of mental illness, affecting about 16 percent of the population.
Two NAMI volunteers joined Kay to share their personal stories.
Bob S. told the story of his oldest son who died by suicide at age 33 after dealing with multiple mental illnesses.
Bob made a point of saying "died by suicide"– which blames the illness – rather than "committed suicide," which blames the person. "Nobody is at fault for this," Bob said. "Mental illness is a medical illness. It's an illness of the brain."
Sandy T. told her story of living with bipolar disorder. "I live with mental illness," she said. "It's not my life. It's part of my life… a manageable part of my life." She said taking medication to stay well and control her illness is no different than a person with diabetes taking insulin.
"People get better," Kay said. "Recovery is a large part of mental illness. Do you get cured? Not so much. Do you manage a life? Absolutely!"
For more information on NAMI and the education and support offered, go to www.namihelps.org.