The lights dim and the candlelit faces wait in anticipation for the traditional reading to begin. All across the room at Ecumen Lake Crystal, the tables are set with elegant cloths, an assortment of teas, hors d'oeuvres and cheesecake — and some very special tea cups.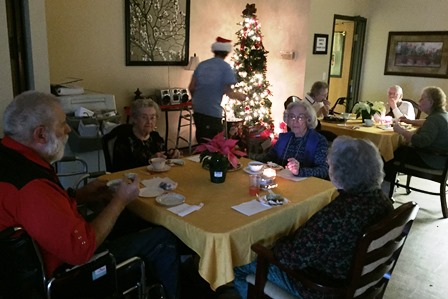 The Housing Director begins to read the famous poem "A Cup of Christmas Tea" by Minnesota writer Tom Hegg. It is a simple but transcendent story about a young man who is asked to Christmas tea by his elderly great aunt, who has recently had a stroke. He goes reluctantly but leaves with a greater understanding of the meaning of Christmas.
The audience of Ecumen Lake Crystal residents connect with the story. Clearly, there are some great aunts among them.
The Christmas tea has been a tradition for about 10 years. Sandy Nygaard, a Resident Assistant who has worked here for 17 years, started the event because she loved the poem and wanted to honor her mother, who lived to be 101. Sandy's family has a strong English heritage, and tea was special in her family. Her mother had precious tea sets that Sandy donated when she created the event, which happens every year during Christmas week.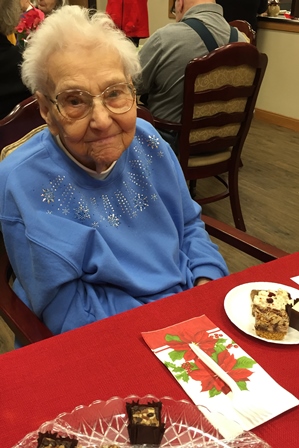 "It's something really special," says Sandy, "because it's something all of us staff do together for the residents. They all probably did something like this during their lives. It's very pretty."
Ahead of time, the staff all sign up to purchase a Christmas gift for a resident, and someone dressed as Santa comes and hands out the gifts.
"It is a very simple event," says Housing Director Laura Templin, "But it's very special to the residents because it's just for them. It is also special because the staff organizes this on their own every year. We have a very dedicated staff." Seven employees have been here for 10 years or more.
"It's quite a tradition now," says Sandy. "I just love to see the residents smile. I love to see them so happy."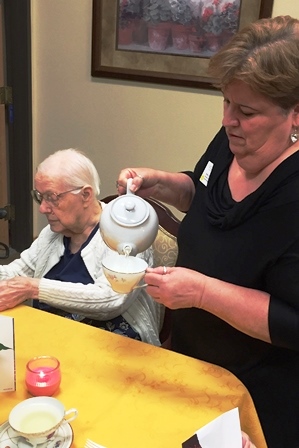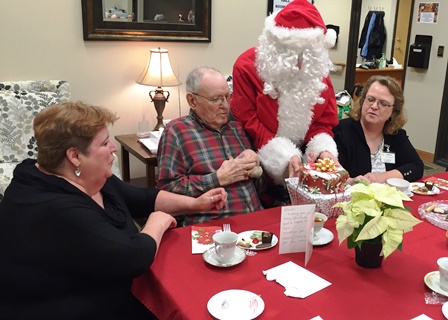 —
In the video below, Tom Hegg reads "A Cup of Christmas Tea." Listen to the story and consider visiting someone who is alone this Christmas Eve.