Ecumen Lakeshore Nursing Assistant Jo Ann Salo was named "Caregiver of the Year" in District B at the annual LeadingAge of Minnesota "Stars Among Us" awards presentation Feb. 10, 2016, in Saint Paul.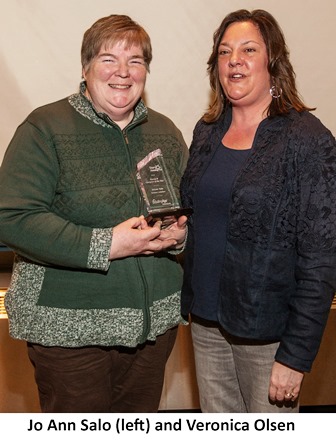 Salo, a 25-year employee of Ecumen Lakeshore, was honored for exceptional commitment to her patients, going above and beyond her job duties in delivering care and demonstrating outstanding actions and attitudes in treating the whole person. Salo works in the short-stay rehabilitation center, helping patients return home as soon as possible.
Each year LeadingAge Minnesota, the statewide association of aging services providers, gives awards honoring people who have significantly impacted the lives of older adults in Minnesota.
"Jo Ann is the caregiver we all want," said Lakeshore Director of Nursing Veronica Olsen. "She's compassionate, competent, confident and strong."
In nominating Salo for the award, Olsen wrote: "One of Jo Ann's greatest attributes is her ability to communicate concisely and calmly with patients, family and staff. She is able to work with all personalities establishing trusting relationships and encouraging the patients to be as independent as they can and participate fully in their rehabilitation stay. Jo Ann also uses her problem-solving skills to assist patients, figuring out the easiest way for the patient to transfer and explaining each step of the transfer and why. Daily Jo Anne demonstrates a positive attitude and commitment to the patients, families, co-workers and Ecumen Lakeshore. All of us here at Ecumen Lakeshore are so fortunate to have Jo Ann as an employee, caregiver and friend!"
Tamara Mathews, RN Clinical Lead at Ecumen Lakeshore, illustrated how Jo Ann goes above and beyond with a story about a patient who had a continuously connected IV. The patient wanted to dress independently, so Jo Ann took the patient's shirt home and modified it so it could be easily taken off or put on without having to disconnect the IV.
"She is dedicated to her company and her patients," Mathews wrote. "She will often pick up shifts that are not covered. She will come in early before her shift starts to relieve a co-worker that had to stay overnight from the evening shift because a night shift person had called in sick. Jo Ann lives over an hour away and often will get up at 2:00 a.m. to come in to relieve a night person so they can go home, and she will stay and work through the day shift."