Ecumen Home Care & Hospice-Litchfield Nurse Shelly Hank, RN, was named was named "Caregiver of the Year" in District D at the annual LeadingAge of Minnesota "Stars Among Us" awards presentation Feb. 10, 2016, in Saint Paul.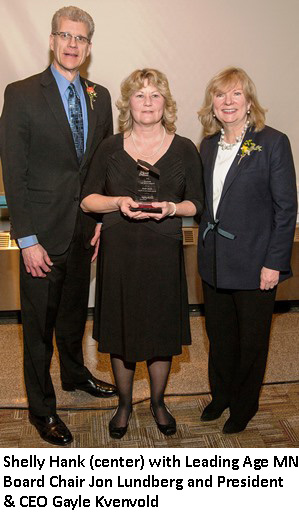 Hank, a home care and hospice nurse, was honored for exceptional commitment to her patients, going above and beyond her job duties in delivering care and demonstrating outstanding actions and attitudes in treating the whole person.
Each year LeadingAge Minnesota, the statewide association of aging services providers, gives awards honoring people who have significantly impacted the lives of older adults in Minnesota.
"Shelly makes it possible for so many people to find meaning when their lives are near the end," said Sandy Dougherty, the RN Clinical Director of Ecumen Home Care & Hospice-Litchfield. "She nurses the soul as well as the body. She leads the people she cares for to happier places and helps them find peace and resolution. She gives care from the heart, and her heart knows no limits."
Dougherty said every client is special to Hank and every client gets special, individual treatment. "Shelly does not have a typical nurse-patient relationship with her clients," said Dougherty. "She never met a client she didn't love. Shelly gets to know the full life stories of the people she cares for, and she weaves the fabric of their lives into her care plans. She knows what they love most, what they need most and what they fear. She knows exactly who they are as individuals and has natural instincts to give them exactly the support they need. She finds ways to lift spirits and bring smiles to those at the end of life. She makes last wishes come true."
A Changing Aging blog post last year tells the story of how Hank brought joy to a hospice client who wished for one last tractor ride. He was too weak to get on the tractor by himself, and certainly too weak to drive. Shelly got him on the tractor, and she learned to drive a tractor that day.
Hospice Social Worker Judy Loecken, a colleague of Hank's, praises her for her ability to talk with anyone and be trusted in a matter of minutes. "She listens, and she acts on what she hears about their deepest fears and desires," Loecken said. "The families of her clients love her too. She puts them at ease and prepares them well for the difficulties they will face. Most people who Shelly cares for die in a short period of time. And when they do, she is always there at the funeral home with them — saying a last goodbye and helping their families grieve and adjust. This is not part of her job. This is who she is."
Dougherty added: "She is in perpetual caregiving mode. Shelly stands out and in a way that is hard to put in words. She brings a spirit and commitment to her work that is beyond special. One thing that truly sets Shelly apart is that she does not discriminate. She loves everyone."