ArtSage, a Minnesota nonprofit that connects the arts with aging, is presenting its second Midwest Arts & Aging Conference at the Minnesota Landscape Arboretum on June 19, 2015. The day-long session convenes arts and aging experts, teaching artists, aging services organizations, and funders.
The conference, which is open to the public, runs from 8 a.m. to 5 p.m. at the Minnesota Landscape Arboretum in Chaska, Minn. More than 300 participants are expected for the sessions on poetry, movement, music, and visual arts, and practical instruction on building arts programming for older adults based on best practices in the field.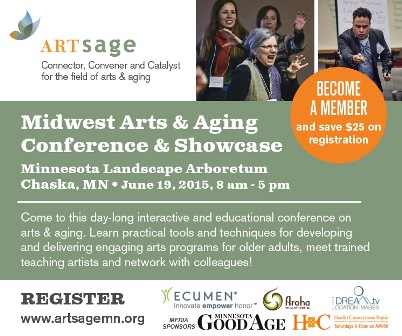 Concurrent morning workshops will focus on arts program development, myths of aging, evaluation tips and tools, and funding sources for arts programs. Afternoon sessions by nationally-recognized arts and aging experts include a workshop on the unique ArtSage interdisciplinary approach, taught by master teaching artists Zoë Bird, Parker Genné, Michèle Coppin, Joey Clark and Jeanie Brindley-Barnett. Sessions also will offer hands-on theater, dance, and taiko drumming workshops taught by keynote speaker Stuart Kandell of Stagebridge Senior Theatre, Maria Genné and the teaching artists of Kairos ALIVE!, and Iris Shiraishi of TaikoAlive!
The conference will also feature an ArtSage Teaching Artist Showcase. Artists trained by ArtSage to work with older adults will demonstrate and describe the classes and programs they offer. Independent artists will have an opportunity to connect with activity directors at senior housing communities for employment opportunities in lifelong learning.
Additionally, the conference will feature a half-day Exhibitor Fair showcasing arts, cultural, and community organizations working to create arts programs in community housing, arts centers, theaters, libraries, and senior centers. With more than 25 exhibiting organizations, the Exhibit Hall offers opportunities to explore and discuss arts programming possibilities, networking, collaborative programs, online services, tools and technologies.
Keynote speaker Stuart Kandell is founder and former executive director of Stagebridge Senior Theatre of Oakland, California, the nation's oldest and most renowned theatre company of older adults. He received the American Society on Aging's first award for Intergenerational Innovation and has served on the Board of the National Center for Creative Aging.
Ecumen, which has a partnership with ArtSage, is a sponsor of the event. To register and get more conference information, click here. Midwest ArtSage members receive a discount on registration fees for the conference.