After Almost 90 Years, a Dream Comes True for Ethel Dahl at Ecumen Parmly LifePointes
Ethel Dahl, 95, waited most of her life for the motorcycle ride that finally happened last week.
When Ethel Rucks Dahl was a very young girl in the 1920s, a dashing young man on a motorcycle with a sidecar came courting her sister on their farm in Arlington, Minn. Ethel was in awe of the motorcycle and thrilled when the young man offered her a ride. But her mother absolutely would not allow it.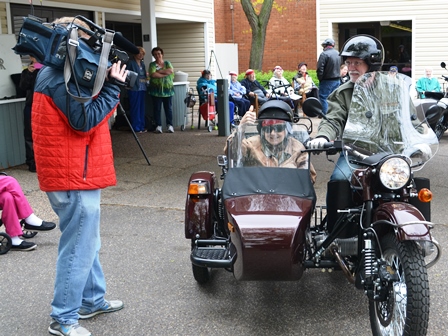 Ethel, who is now 95, was only about eight years old at the time, but she never forgot that day. She just put it aside in her mind and went about her life the next nine decades.
Then, the other day, the memory and the desire came rushing back. The recreation staff at Ecumen Parmly LifePointes in Chisago City, where Ethel lives now, announced "Motorcycle Day" as part of Community Celebration Week. Volunteers from Harley Davidson in New Richmond, Wisc., would be coming to providesidecar rides to the residents.
Ethel remembered that day from her childhood and let her story be known — telling everyone how much she wanted to get that sidecar ride she missed as a young girl. News spread fast. It was such a sweet story that KARE 11 TV's Jana Shortal came to interview Ethel and record the ride.
Recreation staffers Christy Johnson and Kathleen Manning got Ethel outfitted with a doo-rag, motorcycle helmet, leather jacket and sunglasses. "This helmet is heavy," Ethel quipped. "Remember my head is as old as the rest of me."
Then the motorcycle with a sidecar roared up to the front door, where Ethel and about 20 other residents had assembled for their rides. Ethel got to go first. "I'm not afraid of anything," she announced.
The KARE 11 crew hooked up a Go-Pro camera to the sidecar to capture the ride up close. Ethel, who had been talking nonstop, suddenly got very quiet. But her face spoke volumes. She did not stop grinning for the entire ride.
"It was great," she said when the ride was over. "It was all I ever dreamed of and more."
Ethel was a Chisago County deputy court clerk, who retired in 1982. Her daughter, Leilani Dahl Freeman, says her mother is an expert baker, gardener and flower arranger – and a published poet. She still pays her own bills and balances her checkbook.
And rides motorcycles.